This post was most recently updated on March 2nd, 2020
I have discovered the wonders of homemade cough syrup, especially for the girls as they are trying to settle off to sleep at night with a cold, and the tickley cough just won't leave them alone. This time of year lemons are nice and affordable too which is handy!
Please read: This information is provided for educational purposes only and is not intended to treat, diagnose or prevent any disease. We encourage you to make your own health care decisions in partnership with a qualified health care professional.
This post contains affiliate links, this means at no extra cost to you, we make a commission from sales. Please read our Disclosure Statement
It is that time of year when people succumb to the horrors of winter bugs. My family keep amazingly well compared to some *touch wood*.
Miss 7 got a letter in the post from the GP asking if she still wanted to be enrolled as she hasn't seen a doctor or nurse in 3 years! In saying that though, even we come down with the odd cold or sniffle.
Homemade cough syrup knocks the annoying coughs on its annoying little heads. It only has 4 ingredients and is natural and effective and very simple to make at home.
This hibiscus and pomegranate fire cider is a powerful herbal remedy great for healing colds
RELATED: 10 medicinal herbs you can grow at home
Homemade Cough Syrup Recipe – Natural Cough Medicine.
Zest of 2 lemons
¼ cup – peeled, sliced ginger
1 cup – water
1 cup – honey
½ cup – lemon juice from the lemons
In a small saucepan, combine lemon zest, sliced ginger and 1 cup of water. Bring mixture to a boil, simmer for 5 minutes, then strain through a sieve into a heat-proof measuring cup. Rinse the saucepan out and pour in 1 cup of honey. On low heat, warm the honey, but do not allow it to boil. Add the strained lemon ginger water and the lemon juice. Stir the mixture until it combines to form a thick syrup. Pour into a clean jar with a lid. Note: This can be refrigerated for up to 2 months.
For children ages 1 to 5, use ½ to 1 teaspoon. Children ages 5 to 12, use 1 to 2 teaspoon. For children 12 and older and adults, use 1 to 2 tablespoons.*
* Remember, honey is not recommended for children under the age of one.
Are you interested in more herbal solutions? Check out the Herbal Academy Courses. They are super useful and very affordable.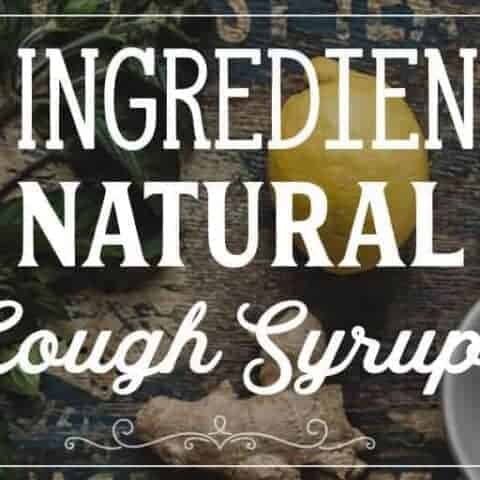 Natural Homemade Cough Syrup
This 4 ingredient natural cough remedy will help the whole family
Ingredients
Zest of 2 lemons
¼ cup - peeled, sliced ginger
1 cup - water
1 cup - honey
½ cup - lemon juice from the lemons
Instructions
In a small saucepan, combine lemon zest, sliced ginger and 1 cup of water. Bring mixture to a boil, simmer for 5 minutes, then strain through a sieve into a heat-proof measuring cup.

Rinse the saucepan out and pour in 1 cup of honey. On low heat, warm the honey, but do not allow it to boil.

Add the strained lemon ginger water and the lemon juice. Stir the mixture until it combines to form a thick syrup.

Pour into a clean jar with a lid. Note: This can be refrigerated for up to 2 months.

For children ages 1 to 5, use ½ to 1 teaspoon. Children ages 5 to 12, use 1 to 2 teaspoon. For children 12 and older and adults, use 1 to 2 tablespoons.*