One of the biggest game changers in our plastic free kitchen adventure was discovering how to make beeswax wraps. Plastic wrap, cling film, gladwrap – whatever you want to call it, it is everywhere. We use it to wrap sandwiches, fruit, snacks, leftovers, take-a-plates, cheese, baking, you name it, we can wrap it.
Unfortunately, once plastic wrap is created, we are stuck it forever. Sea life thinks it is food, other animals choke on it and it probably isn't good for us to wrap our food in either, let's be honest.
Please read: This information is provided for educational purposes only and is not intended to treat, diagnose or prevent any disease. We encourage you to make your own health care decisions in partnership with a qualified health care professional.
This post contains affiliate links, this means at no extra cost to you, we make a commission from sales. Please read our Disclosure Statement
BUT there is an alternative! DIY Beeswax food wraps!
These are a beeswax, tree rosin and oil infused cloth, that self-adheres, is reusable and can come in any pattern or size you like. In fact, the beeswax-infused cloth is better for storing food in because it also breathes so your food won't sweat. No more slimy soggy cheese edges or squishy avocado.
I have made several versions of the DIY beeswax wraps before I found a combination of ingredients that worked well.
Fabric Required to Make your Own DIY Beeswax Wraps
The first time I made beeswax wraps, I used straight beeswax on calico cotton. The wax wasn't pliable enough on its own and didn't stick to itself either, it just cracked and the calico cotton was just too thick and heavy.
You need a cotton that is thin and flexible, like bed sheets. Light 100% cotton quilting fabric works well and comes in the most fantastic patterns.
These beeswax wraps include damar resin (you can substitute it for pine tree resin if you prefer) which add to the durability of the wax, and adds the sticky factor to it.
The beeswax food wraps also include jojoba oil which is a natural anti-microbial oil and it also adds to the flexibility of the wrap. You can substitute it for any food-safe oil if you prefer, but it won't have the same anti-microbial effect.
Why we use Jojoba Oil in making Beeswax Wraps
Jojoba oil plays a dual role when making beeswax wraps
It helps keep the coating soft and supple
It is a natural antebacterial oil that is also food safe.
Why we use Tree Resin / Damar Resin or Pine resin making Beeswax Wraps
You can use a few different types of tree resin for making beeswax wraps. I prefer to use damar resin as it is not as strong smelling as pine resin, it won't taint your food like pine resin might.
Damar resin has multiple uses – artists use it as a paint base, so you can often find it at art stores. Damar resin is also used in food glazes and is considered food-safe.
Related: Caring for your beeswax wraps properly
How to Make Beeswax Wraps
YOU NEED:
100g Beeswax (3.5oz)
20g Damar resin (.7oz) or Pine rosin
3 teaspoons (15ml/.5 fluid ounce) Jojoba oil
6 squares of light, woven cotton, pre washed and dried 30x30cm (12x12in).
An old pot, old clean paintbrush (or new cheap one), tinfoil, mortar and pestle or some way of crushing the resin.
If you are in NZ and making your beeswax wraps, try finding beeswax and jojoba oil here and Damar resin here.
METHOD:
Chop up your beeswax into chunks and place in an old pot.
Crush the resin in a mortar and pestle and add to the wax.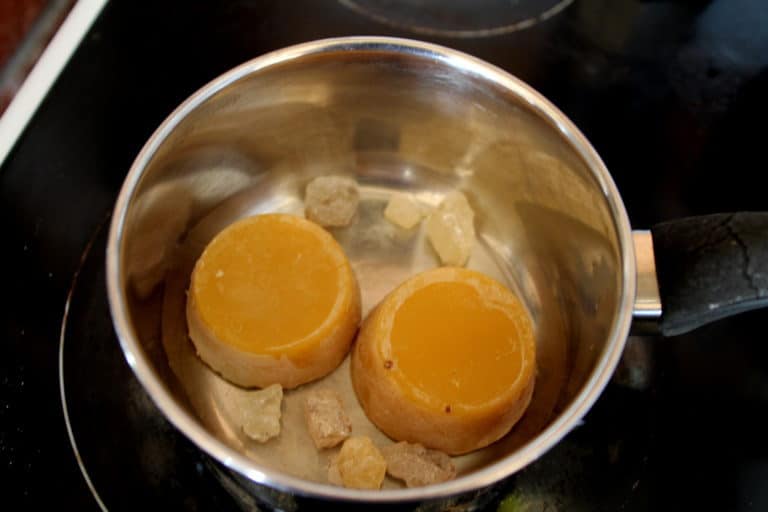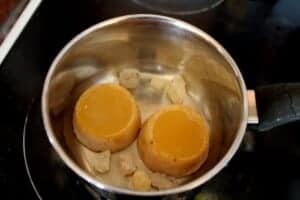 So today I was lazy and didn't chop or crush, it worked, but it would have been much easier if the pieces were smaller
Melt over a medium heat and stir intermittently until all melted together.
Add the jojoba oil and stir well.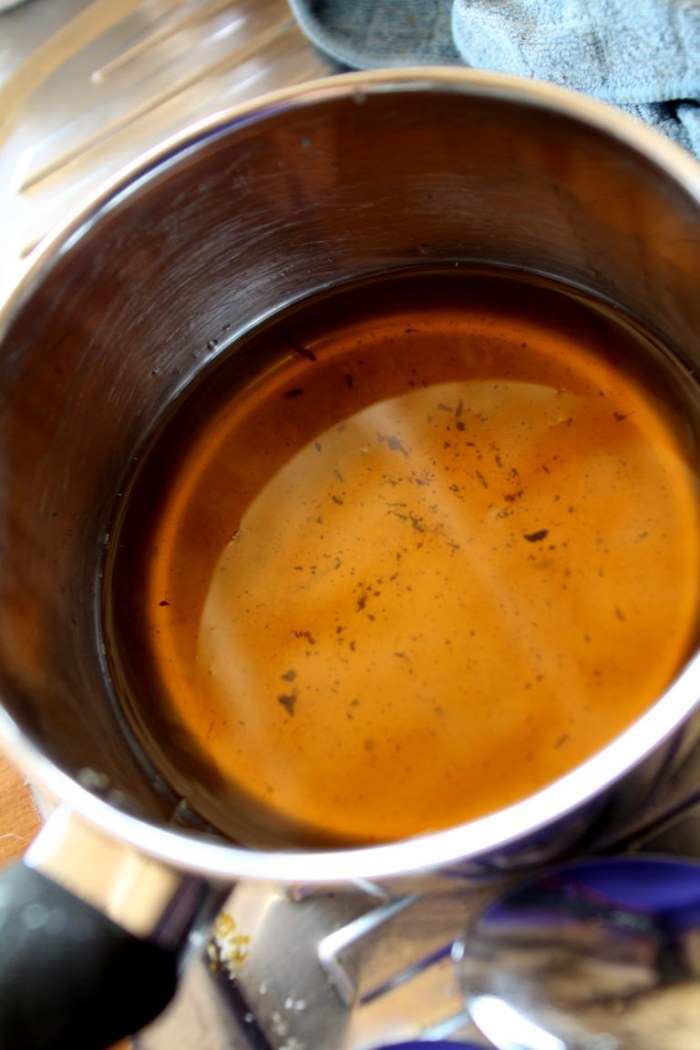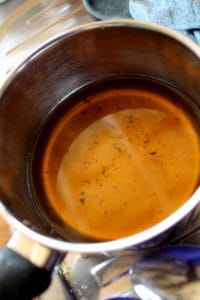 Turn your oven on to 100C (200F) to pre-warm.
Cut your fabric to size. I prefer to use pinking shears to help stop the fraying, but I don't own any so today it was straight cuts.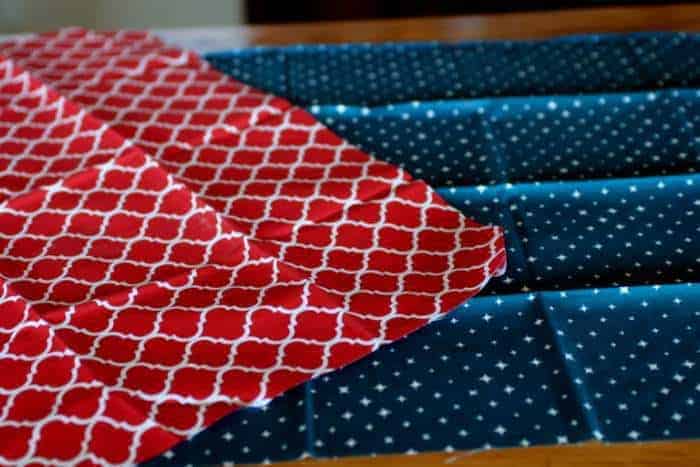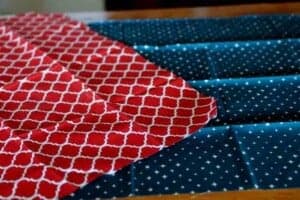 It is not a trick, these are bigger than stated, I wanted some large ones for platters for the festive season. These are 'fat quarters' 50x52cm.
Line your bench with tinfoil and lay your fabric on top of it.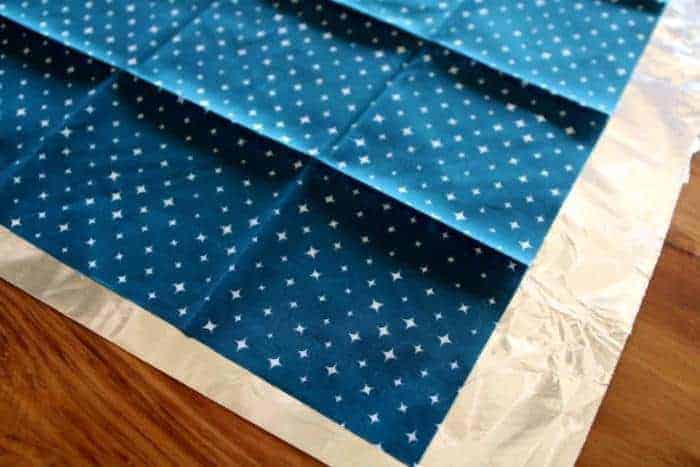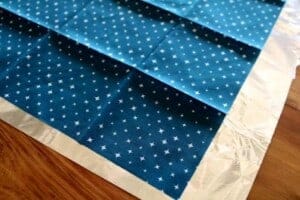 With your old paint brush paint one side of the fabric with the wax mixture.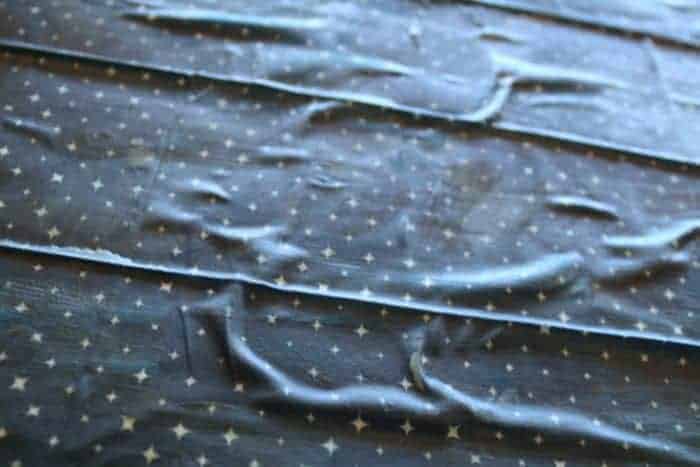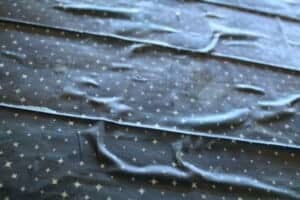 Try and get it even-ish, it cools fairly quickly and heating it in the oven helps even it out.
Place the tinfoil and fabric onto a tray and pop in the oven for 5 minutes.
Take it out of the oven and check the wax is now evenly soaked through to the back. If it has not, return it to the oven for 3 more minutes, adding more wax if required.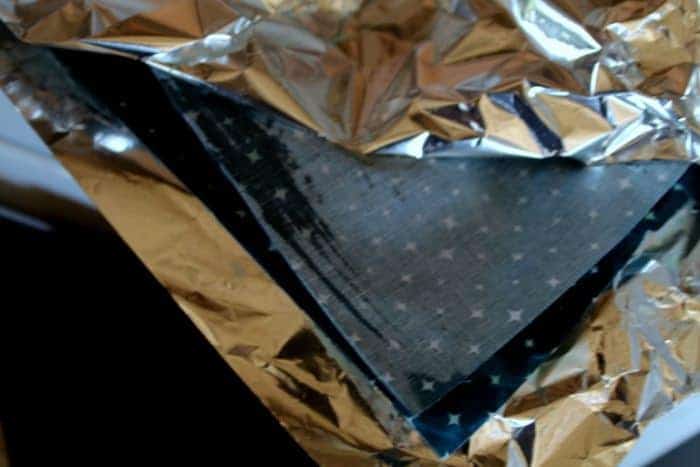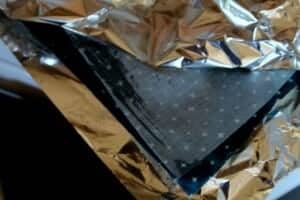 See here the dark patch is where the wax has soaked through, the rest has not yet soaked through.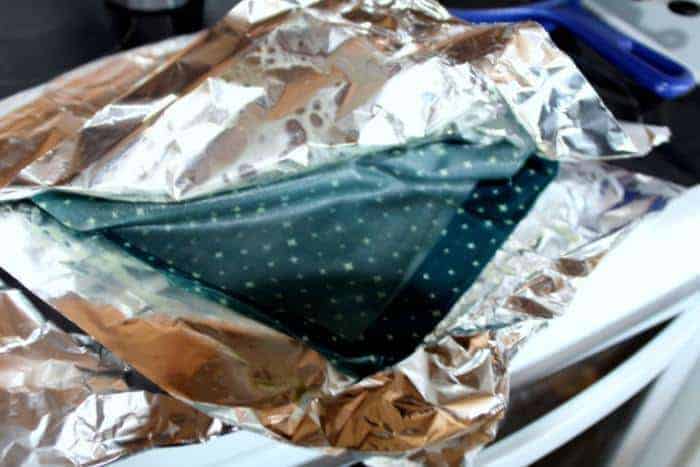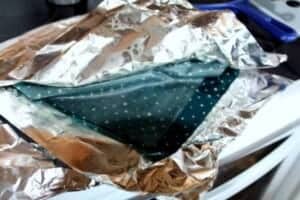 Here you can see it is totally soaked through with the wax. Once the back is evenly coated carefully remove the beeswax wrap from the foil and hang it somewhere for about 3 minutes to set. I use tongs to pick it up with, though it cools very quickly, sometimes I use my fingers and just wave it in the air a bit to set it.
CLEAN UP TIP – wipe your pot out with paper towels/rags before attempting to wash it.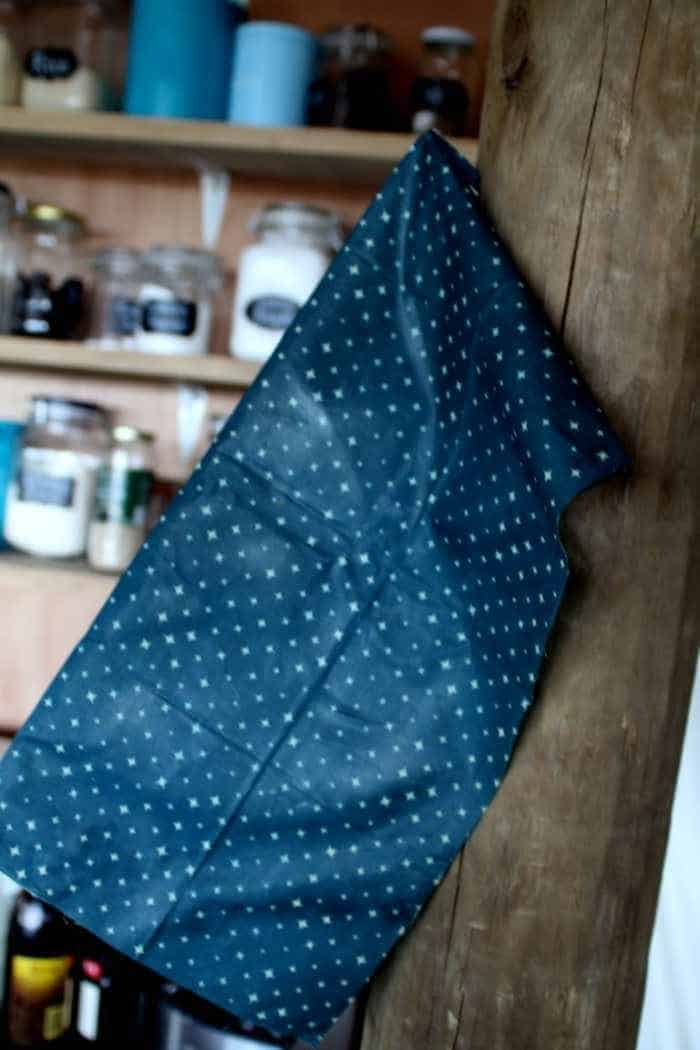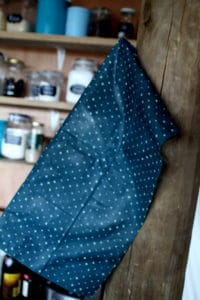 Now it is ready to use.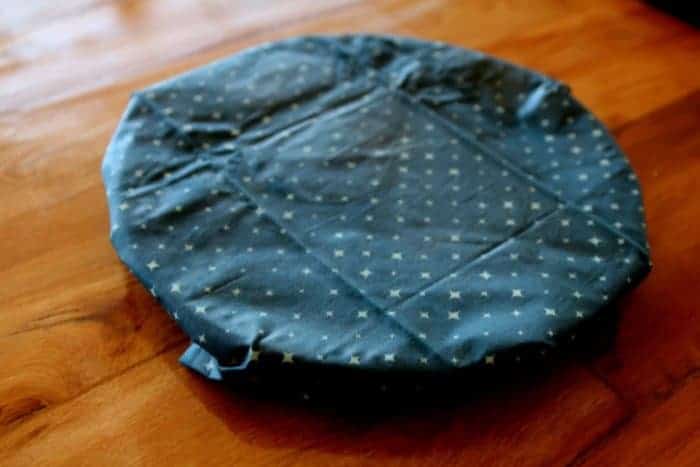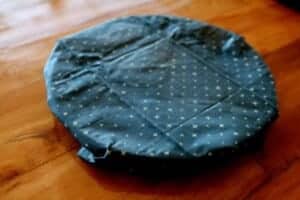 After Care for your Beeswax Wrap
Wash in cool water with a mild soap. Do not put in the washing machine. This coating should last 6-12 months of regular use. If you notice it is starting to lose it's stick, place in a medium oven on a foil lined tray for 5-8 minutes to re-distribute the wax. It will eventually need a proper re-coat of the wax mixture.
For more information on caring for your wraps click here.
ADVANCED LEVEL: Sew little pockets/envelopes and then coat them in the wax mixture to make little snack bags for nuts and raisins etc.
All seem like too much work? You can buy these already made here:
Got any questions? What do you use instead of plastic wrap? Let me know in the comments below!
Like this? Please Pin and Share with your friends!