This post was most recently updated on March 23rd, 2021
Going plastic free is a great aspiration. But there are so many, many challenges along the way. The biggest one I have come up against so far is being able to freeze meat without plastic or using freezer bags.
Please read: This information is provided for educational purposes only and is not intended to treat, diagnose or prevent any disease. We encourage you to make your own health care decisions in partnership with a qualified health care professional.
This post contains affiliate links, this means at no extra cost to you, we make a commission from sales. Please read our Disclosure Statement
The first step to freezing meat without plastic was to get rid of the single-use plastic – ie the meat trays and double wrapped cling film by using reusable plastic containers. Even ice cream containers work well to freeze meat in.
I have a personal bug bear with cling film (aka ), I think it is wasteful and unnecessary in almost every situation.
I particularly get mad at the supermarkets using a double (or sometimes triple!) cling film layer over trays of meat, combined with most of them shutting down their butchery counters. This then removes all choice from consumers, it is plastic packaging or nothing, baby.
I understand that they think they need to use this plastic packaging to contain the meat juices. The reality is that it still does leak, and if you have even left meat in the sink to thaw, you will know that it does.
I haven't bought cling film for our household's use in about 3 years, so having it double wrapped over my meat each night has never sat well with me. Buying meat without plastic will be the first challenge to being able to freeze meat without plastic.
Aluminium foil has previously been our go-to to store food in the fridge and freezing food. But it is not ideal for long term freezer storage as frozen food is hard usually, and it tends to rub holes in the foil. Plastic containers often get brittle in the freezer and break, unless they are a specific freezer container that is able to get handle the freezer temperature.
Want to listen rather than read? Check out my video ->
What can we use to Freeze Meat without Plastic Freezer Bags??
I have hunted high and low for ideas to store meat in the freezer that doesn't involve plastic. There are very few options.
1. Mason Jars
Mason jars, or a similar canning jar brand, are often suggested for freezing meat. However, they aren't the most economical use of space because of their shape. Also, when you smash one – and you will – you have a freezer full of glass shards and wasted food.
However, if you are storing smaller volumes of meat at once, using mason jars can be a feasible option.
Have you tried to fit a large family meal's worth of meat in a jar? I need bigger jars!
They are however good for freezing liquids – find out how to do that safely here.
So my search for a good alternative to plastic freezer bags continued.
RELATED POST: Plastic free kitchen
2. Paper
Sadly, butchers paper and freezer paper now has a coating of plastic on the inside, and these laminated combination products are THE WORST because you cannot compost or recycle them! So they are actually worse than freezing meat in a plastic bag, because at least you can recycle one of those.
At least with using paper you can fit more in than a glass jar, and it is easier to wrap meat with bones in it than it is to try and wedge them in to jars.
You can however get compostable soy wax paper or if you are just storing the meat for a week or two, a couple of layers of thick brown kraft paper will work fine. Neither is a perfect solution for long term meat storage in the freezer.
3.
This, again is good for short term storage. As soon as the foil rubs on something else and gets a hole in it, the contents will suffer from freezer burn, so it is not a perfect solution either!
However, you can use a layer of brown paper or parchment paper over the outside of the aluminum foil to add extra protection from developing holes.
Then I stumbled upon two great idea someone mentioned on a forum – Metal Gastronorm pans and Silicone Freezer Bags!! For more about my experiences on these two items, read below.
2 Plastic free alternatives to freezer bags
4. Eco Friendly Freezer Bags for Meat: Using Silicone Freezer Bags in the Freezer
These are also used as reusable Sous Vide bags in restaurants, but they are perfect for freezing meat at home without using single use plastic bags or styrofoam trays!
Silicone freezer bags are made of safe and eco friendly food grade silicone and they keep in the meat juices from your frozen meat while it is defrosting. They are also perfect for storing cooked meat for putting in the fridge or freezer.
Silicone has no BPA, BPS, BPF, PVC, Phthalates, or Petroleum, and they are both plastic and latex free.
The thing I love about the silicone freezer bags is that you can get your butcher to pack your food into the air tight silicone food storage bags directly at the grocery store.
Then when you get home you can refrigerate or freeze, add marinades, microwave or boil, reheat, even eat out of the bags directly!
As a reusable freezer bag, these silicone bags are perfect, they are thick and washable and I love how you can reuse them over & over again. And if you want to make freezer meals, they come in both large family sized and smaller individual sized bags.
I bought and love these ones , but there are so many reusable silicone bags available that you can checkout here.
RELATED POST: Make your own beeswax wraps
My tips for using Silicone Freezer Bags
Three quick tips, that I hope you will find helpful:
1. When you first open the silicone freezer bag, there is a strong plastic type odor. BUT if you wash the bags in the sink or the dishwasher it will get the smell out easily.
2. The seal is very tight on the zippers to start with. Put a little vegetable oil or water on the inside and outside of the zipper so the bar slides easier. Especially for the first few uses.
Once your bags are broken in and you get used to sliding at an efficient angle, you won't need the lubrication anymore. I find that generally the silicone freezer bags are easier to work with when the zips are wet.
3. Do not put the slide bar in the dishwasher, the high heat can warp the bar and make it harder to slide. The parts fit and seal tight when they are straight. I wouldn't want to try to slide a warped bar.
4. When you thaw meat, stand the bags upright in the sink and allow it to thaw. You can fill the sink with warm water to speed up the defrosting process.
These silicone freezer bags seal tight and are obviously built to last. I hope to get many more years of regular use out of these reusable bags and I'm sure you will too.
RELATED: 4 Lessons I learned shopping plastic free
5. Steamer Pans to Freeze Meat without Plastic
Steamer pans are the pans used in bain-maries for buffet meals at hotels etc, Gastronorm is the most well known brand, these are similar to a plastic container that you might keep things in the freezer in, but they are made of stainless steel.
These pans aren't cheap, but they should last forever. They are stainless steel so won't react with your food and they are stack-able. Perfect for the freezer!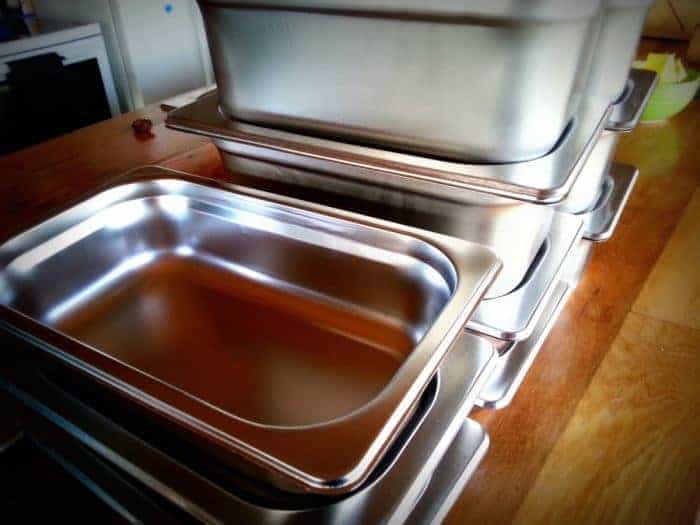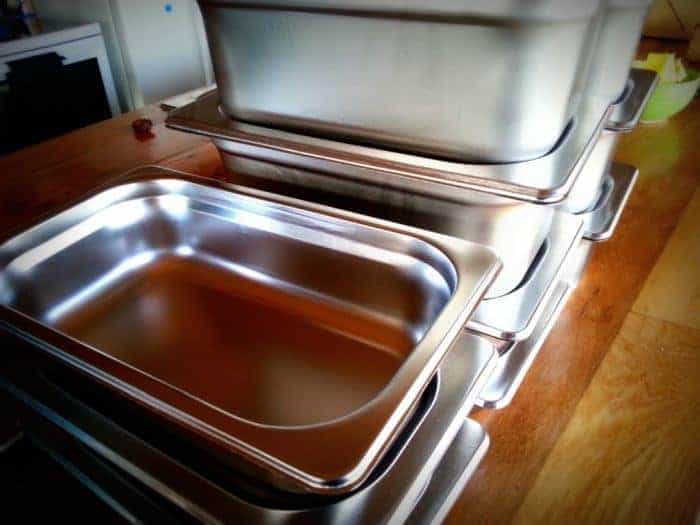 I got mine from these guys, I found them on Trademe (NZ's answer to ebay). You can also get them on Amazon.
Watch the prices and check the shipping costs – some of the shipping prices are crazy high.
Steamer Pan Sizes Best for the Freezer
Steamer pans come in different sizes based on what portion of a big pan they are – 1/1 being a very big pan, 1/2 being half that, 1/4 a quarter and so on right down to 1/9. They also come in different depths – 65mm, 100mm, 150mm, 200mm etc.
My pans arrived in the post today! YAY! As a starter kit, I bought 5 x 1/4 65mm pans and 5 x 1/4 100mm pans and 10 lids (and rural shipping) for $200.
Which seems like A LOT to pay for storage containers. But considering they should last me a lifetime and you think of all the money you would spend on rubbish disposal over your lifetime if you use several meat trays per week. It has got to add up.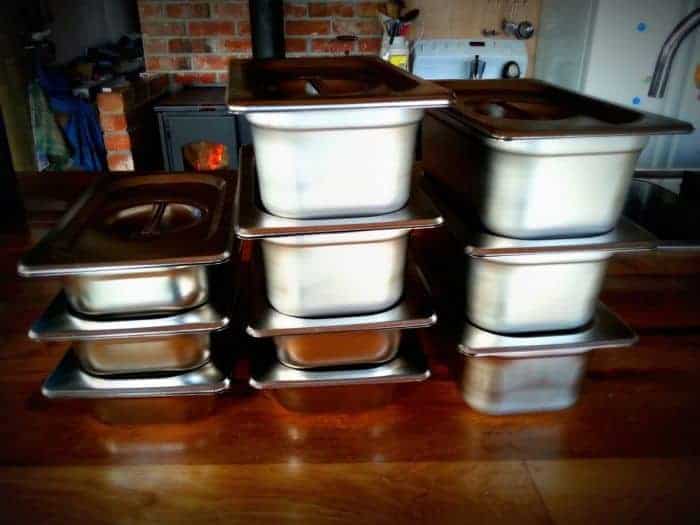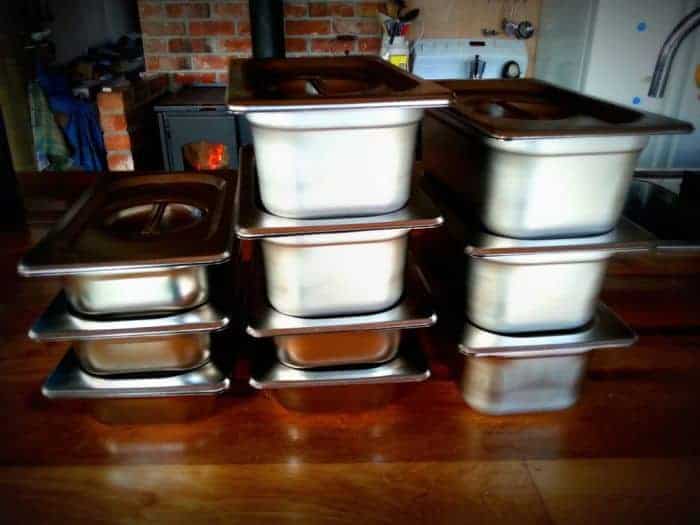 Tips for Using Gastronorm / Steamer Pans in the Freezer
Usually we only store our meat for a week or two before using it.
For longer storage, I found that covering the top of the meat with baking paper, or pouring water over the top to protect the meat from the air. As it isn't the cold that causes freezer burn, it is actually the dry air.
They are particularly good for storing ground meat, usually ground beef, chicken or rabbit. You can use them to store cooked meat, or fresh meat. The trick to compacting the meat well to keep the air out from between it.
I will keep you posted as to how well they work for us. What do you use to store your meat in the freezer or fridge?
UPDATE: Jan 2021 These pans are great when you can find a butcher that will fill them. I can't wait to have homekill meat to use in these. I haven't had any problem with freezer burn or anything. They are really a great solution for freezing meat without plastic.
Enjoyed this? Read on for more tips for going plastic free.
How do you store your frozen things without plastic? Let me know in the comments below.
Please Pin and Share!