This post was most recently updated on August 11th, 2020
There are many things on the homestead that you can use a dehydrator for. Before I owned a dehydrator, I used to use the oven for anything that I needed to dry out, but an oven really isn't the same as a dehydrator. I have decided to review the 5 best dehydrators.
Please read: This information is provided for educational purposes only and is not intended to treat, diagnose or prevent any disease. We encourage you to make your own health care decisions in partnership with a qualified health care professional.
This post contains affiliate links, this means at no extra cost to you, we make a commission from sales. Please read our Disclosure Statement
The difference between drying in an oven and using a dehydrator
Ovens generally have a higher minimum temperature than what you want to dehydrate food at for optimal quality.
If you are like me and you own an older over without a fan forced option, they are even worse.
To dry food properly you need to keep the temperature as low as required, a fan to blow off the moisture, and plenty of ventilation to let the moisture out.
While you CAN manage this in an oven (sort of) you will get a much more consistent and better product if you have a properly designed dehydrator.
RELATED: Dehydrating without a dehydrator
My Favorite Dehydrator
Of the 5 dehydrators that I reviewed, for the price, functionality and size I would recommend this dehydrator.
I dream of having one of the larger, more sturdy stainless steel dehydrators, but for all the things we dehydrate, the one we have works just fine for our needs.
I dry vegetables, fruit leather and jerky overnight using the auto timer cut off and have used it to dry herbs and mushrooms with great success too.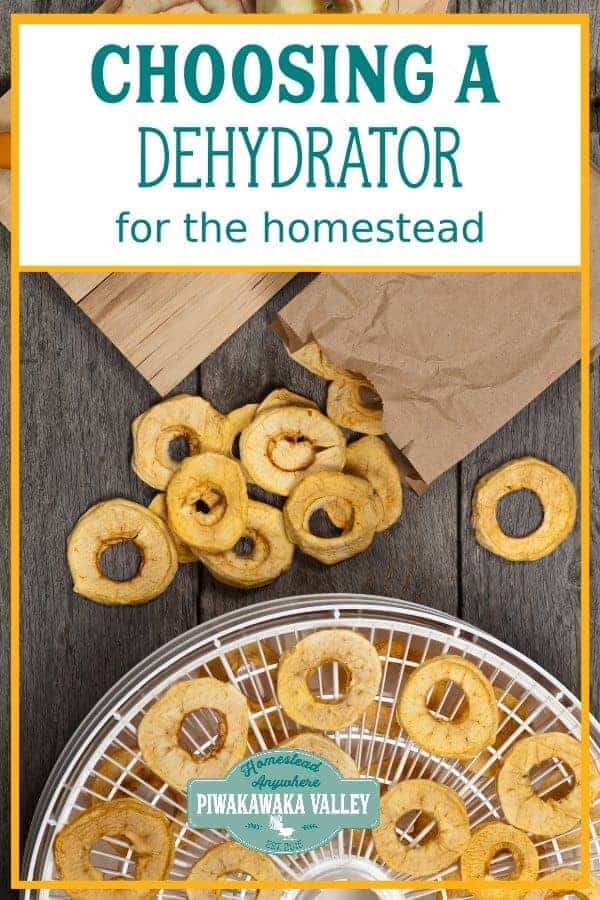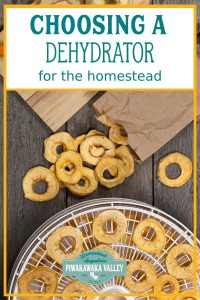 Best Entry Level Dehydrator
NESCO FD-75A, Snackmaster Pro Food Dehydrator
Perfect for preparing backpacking foods
★★★ 3/5 stars

Specs:
Adjustable thermostat allows you to dry different foods at proper temperatures (95º-160º F)
Powerful top-mounted 2100 RPM fan
600 Watts of drying power.
Comes with 5 trays, but is expandable to 12 trays. (Trays are 13 1/2″ in diameter)
Made in the USA of Global and Domestic parts
A 52-page recipe and instruction book is also included.
Pros:
Very affordable
Fits in a lot of trays for a small machine
Good reviews
BPA free
Cons:
The plastic trays are a little flimsy
No timer
Best Dehydrator for Jerky
Kioles Food and Fruit Dehydrator
Perfect for small time jerky makers or when you have a little produce to dry at once.
★★★★ 4/5 stars
Specs:
Variable tray stacking system allows you to stack the trays at two different heights to accommodate foods of varying sizes and thicknesses.
Large 7-tier design with 2lb/1kg food capacity per tray allows you to preserve different types of food simultaneously, thanks to a digital thermostat
Adjustable between 95-160F (35 – 70°C)
250 watts of drying power
Pros:
Mid-sized capacity
Variable heat
Timer
Can put trays in dishwasher
Quiet operation
Cons:
No recipe book or instructions
Trays are plastic
Best Dehydrator for Fruits and Vegetables
Ivation 6 Tray Digital Electric Food Dehydrator
Great for fruits, fruit-rolls, vegetables, herbs, and meats. This is the dehydrator I have and LOVE.
★★★★ 4.5/5 stars
Specs:
• 6 removable, height adjustable racks (13″x12″)
• Digital thermostat adjusts from 95 F to 158 F
• Digital timer with automatic shutoff
• Includes 1 solid and 1 mesh sheet
• Drip tray collects any residue from drying process
• Rear-mounted fan for even drying
• Overheating safety protection
• Complies with US electrical safety regulations ETL
• Comprised of BPA Free materials
• Dimensions: 17.71 x 13.58 x 12.40 inch
• Rated power: 480w
Pros:
Easy to use
Variable heat
Timer with auto shut off
Holds a lot of food
Comes with clear instructions
Cons:
Can smell a bit when first used
Temperature increments are in 9F lots (5C)
Best Dehydrator for Bigger Families
Magic Mill Commercial pro
Perfect for when you have lots of food to process at once
★★★★ 4.5/5 stars
Specs:
Automatic shut off when timer is done
Transparent door allows you to easy monitor progress
Large capacity with 10 trays you can have more than 13 LB of food dehydrate at once
Overheating safety protection
Drip tray collects any residue from drying process
Temperature Range: 95°F to 167°F (with 9 num.increments)
Wattage: 1000 watts
Warranty: 1-year Limited
Includes
☑ 10 Stainless steel height adjustable racks
☑ 10 fine mesh sheet
☑ 5 nonstick Fruit Leather sheets
☑ 1 set oven mitts
Pros:
Large
Well made stainless steel body
Stainless steel trays
VERY quiet
Dries evenly/no rotation needed
Timer and auto shut off
Cons:
We couldn't find any!
Best Dehydrator for EVERYTHING
Excalibur D900SHD 9-Tray
The Excalibur is the premium option when you are looking at dehydrators! It is the dehydrator homesteaders dream of.
★★★★★ 5/5 stars
Specs:
9-Tray dehydrator with 15 square feet of drying space

Includes a flexible poly-screen tray insert to prevent foods from sticking and trays do not need to be moved or rotated during operation

Adjustable thermostat and 26-hour timer

10-year limited warranty

Made in USA
600 watts

Includes Guide to Dehydration and Preserve It Naturally
Pros:
Made of stainless steel
Stainless steel mesh trays
Can be used to: dehydrate fruits, vegetables, nuts, meat for jerky, fruit puree for fruit roll-ups, raise bread or make homemade yogurt
Super fast – jerky can be done in only 4 hours
Very easy to clean up
Cons:
It isn't cheap! But then with a 10 year warranty it is probably worth it!