This post was most recently updated on January 12th, 2021
Finding ways to use or preserve tomatoes became almost as much of a chore as actually picking, eating and preserving them was. This summer we grew a whole tunnel house full of tomatoes. There were weeks that we were picking 10kg (22lb) per day. That is A LOT of tomatoes to keep on top of!
Please read: This information is provided for educational purposes only and is not intended to treat, diagnose or prevent any disease. We encourage you to make your own health care decisions in partnership with a qualified health care professional.
This post contains affiliate links, this means at no extra cost to you, we make a commission from sales. Please read our Disclosure Statement
Here is a big list of ways to use your excess tomatoes.
Canning
Canning tomatoes is a bit of an outlay for all the jars, bands and seals, but it is well worth it for all the tomatoes you can preserve and use year round!
Staci from A Chick and her Garden has a great tutorial on water bath canning tomatoes.
If you have a pressure canner, you can use it to can cold-packed tomatoes, which does save a lot of fluffing around. There are directions for this method here.
Drying
If you are like me and get a little bit over supplied with canned tomatoes, dehydrating them is a fantastic idea. I love them stored in herbed oil and eaten with cheese and crackers.
You can make "sun dried" tomatoes using a dehydrator. like this tutorial from Salt in my Coffee.
If you don't have a dehydrator yet, this one is well worth the money.
Ketchup
Every house needs a good supply of ketchup. I already have a post of my favorite ketchup recipe here.
Anna from Salt in my Coffee has a delicious paleo ketchup recipe that I would love to try next time I get a chance!
Fermenting is something we are getting in to in our house, and here is a recipe for fermented ketchup!
Salsa
Salsa is one of those things that you can use so many times during the year, and you can make several different recipes and have a great variety in the cupboard. This is my favorite salsa recipe.
The ladies from Coffee with Us 3 share their favorite salsa recipe here or you can try the one from Common Sense Home as well, and Gina from Morning Chores has a great canned salsa recipe.
Spaghetti or Pasta Sauce
Spaghetti sauce is not only a good way to use up plenty of tomatoes, but also it tastes fantastic! Coffee with Us 3 has a delicious and simple recipe for spaghetti sauce.
Houseful of Nichols have their own yummy version of pasta sauce.
Pickles
If you are left with lots of green tomatoes, why not make some pickled green tomatoes? These green tomato pickles work best with small, firm tomatoes, not ones that are large and juicy.
This recipe for pickled cherry tomatoes is an effective way of preserving a huge harvest of cherry tomatoes. The cherry tomatoes and an assortment of vegetables are cold packed and covered in hot brine.
If you are in to natural fermenting goodness like we are, you could try your hand at making some fermented tomatoes, not only are they tasty, they are super good for you! Find out how here.
Growing up my Grandma always had a few jars of tomato relish ready to eat with cold meat and sandwiches. This one is very similar to the recipe she used.
Soup
If you have a pressure canner, then making vast quantities of tomato soup and canning it for the winter is a fantastic idea! Common Sense Home has a recipe and instructions for making and canning tomato soup.
Freezing Tomatoes
There are many benefits to just popping your excess tomatoes in to your freezer as Tamara from The Reid Homestead explains here. They store well, and are easier to peel after they have been frozen.
Fried Green Tomatoes
Sometimes you are stuck with too many green tomatoes, as Heidi from Healing Harvest Homestead discovered. But when that is the case, you can make these delicious, southern style fried green tomatoes.
Tomato Galette
This is sort of like a cheesy tomato pie. It is one of my favorite ways to use fresh, vine ripened tomatoes. You can find the recipe here.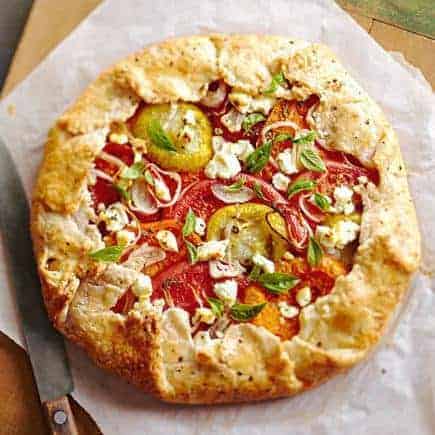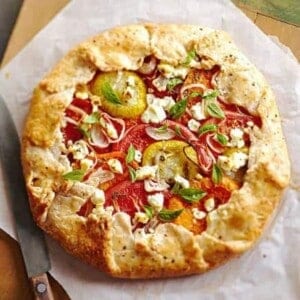 Save your seeds
If you are growing heirloom tomatoes, you should help preserve them (and save yourself some money!) by saving the seeds. We have actually done this this year. I managed to get some heirloom seeds for free, the only stipulation was that we keep some seeds and pass them on next year.
Mine are from yellow and orange heirloom varieties in particular because…
FUN FACT: the Lycopene that is in orange and yellow tomatoes is able to be used by the body without the tomatoes being cooked first.
The lycopene in red tomatoes can only be used once the tomatoes have been cooked well. Lycopene has been shown to have several benefits in the body including combating cancer cells!
Kathryn from Farming my Backyard has a lovely lesson on tomato seed saving for you.
What is your favorite way to use your tomatoes? Let me know in the comments below!
Please pin and share with your friends!