This post was most recently updated on March 10th, 2020
Nothing beats caramel and white chocolate! And this stuff is GOOOOOD. I warned you. This Caramel and White Chocolate Brownie is the sort of thing fights are started over….
Please read: This information is provided for educational purposes only and is not intended to treat, diagnose or prevent any disease. We encourage you to make your own health care decisions in partnership with a qualified health care professional.
This post contains affiliate links, this means at no extra cost to you, we make a commission from sales. Please read our Disclosure Statement
Fudgy, buttery, chewy, and addictive! All the things you want in a brownie – but this one is also gluten free! You can make it with normal flour too and it is equally delicious!
RELATED: Caramel and white chocolate fudge
Caramel and White Chocolate Brownie
Melt 150g Butter
Add:
1 1/4C Brown Sugar
2 Eggs
1/2t Salt
1 1/2 C Flour or Gluten Free Baking Mix
1C White Chocolate Buttons
Pour into a brownie pan and bake at 180C for 25-30 minutes or until firm.
If you like tips on frugal living, cooking from scratch and consuming less, sign up to our newsletter below, I would LOVE to have you!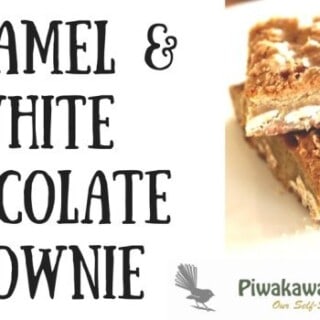 Caramel and White Chocolate Brownie (Blondie) Gluten free (or not)
Prep Time: 5 minutes

Cook Time: 25 minutes

Total Time: 30 minutes
Ingredients
150g Butter
1 1/4C Brown Sugar
2 Eggs
1/2t Salt
1 1/2 C Flour or Gluten Free Baking Mix
1C White Chocolate Buttons
Instructions
Preheat the oven to 180C/350F
In a medium pot melt the butter then remove from the heat
Add the rest of the ingredients
Stir well
Pour in to a lined brownie pan (8x10inch)
Bake for 20-25 minutes or until the middle is just set