I must admit I am pretty proud of this creation. Perfect, just in time for all those take-a-plate outings you are bound to have coming up in the next month or so.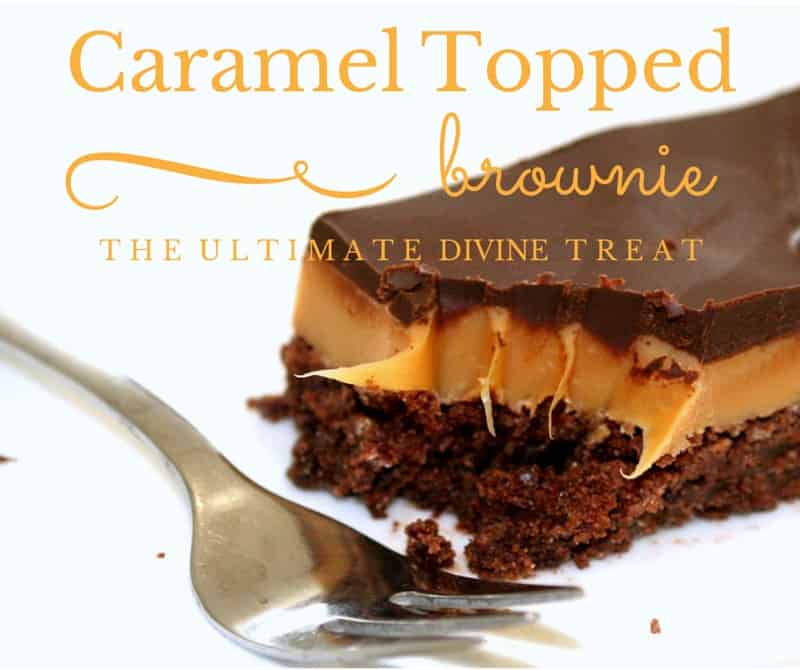 Fudgy, dense, moist brownie on the bottom, chewy buttery caramel in the middle topped with a soft real chocolate topping and oh so perfectly divine!
Please read: This information is provided for educational purposes only and is not intended to treat, diagnose or prevent any disease. We encourage you to make your own health care decisions in partnership with a qualified health care professional.
This post contains affiliate links, this means at no extra cost to you, we make a commission from sales. Please read our Disclosure Statement
Even better – it is gluten free! For all those that gluten free is not an issue – simply replace the baking mix cup for cup with normal wheat cake flour and you will be fine, it works either way.
Recipe:
For the brownie base:
Pre-heat your oven to 180 C (350 F) and line a 30x20cm (8x12in) tin with non-stick baking paper.
Melt 155g (5 1/2 oz) of butter in a medium sized bowl.
Add to the butter 1C of sugar, 1/3C of Cocoa and 2 large eggs. Beat well to combine with a wooden spoon.
Fold in 1C of quality Gluten Free Baking mix (or if not gluten free, then 1C of normal baking flour)
Pour into the tin and spread out evenly. Bake for 20-25 minutes or until just firm.
For the Caramel:
In a microwave proof glass bowl (or in a double boiler if you are very patient) combine 1 tin of sweetened condensed milk, 2 Tablespoons of golden syrup, 110g (4oz) butter and 1/3 C sugar. Microwave on high for 3 minutes, stir, cook a further 2 minutes and stir again. Continue to cooking for 1 minute intervals, stirring between each time. It takes approximately four minutes of this depending on your microwave. It needs to be a deep golden colour and when you place some caramel on a cold surface it will set sort of soft but chewy. Alternatively you can cook in a double boiler, stirring constantly until it reaches soft-firm ball stage (this takes ages, hence the microwave cheat)
Don't panic – when it gets properly boiling the butter will separate from the caramel and it will look curdled – trust me it will come together in the end.
Once cooked to the chewiness you like, beat well with a handheld beater until it all comes together (about a minute) then pour on the brownie base. Sit this aside to cool and set.
For the Chocolate topping:
Melt 250g (8 1/2 oz) of 50% cocoa solids good quality chocolate with 50g (2oz) of unsalted butter – it takes about 1 minute in my microwave. stir well to melt any last pieces of chocolate and pour over the set caramel. Place in the fridge for about an hour to set the chocolate. Cut in to bars with a hot, dry knife. Store in a air tight container.
Will keep at least a week – but it never lasts that long at our house!!!