This post was most recently updated on July 27th, 2021
A large part of raising animals for meat is getting them to grow without spending a fortune on food. With rabbits in NZ we have Rabbit Calicivirus in our wild population, so we cannot just feed grass/forage that has been touched by wild rabbits.
Please read: This information is provided for educational purposes only and is not intended to treat, diagnose or prevent any disease. We encourage you to make your own health care decisions in partnership with a qualified health care professional.
This post contains affiliate links, this means at no extra cost to you, we make a commission from sales. Please read our Disclosure Statement
Feeding rabbits without pellets is possible, the challenge to naturally feeding rabbits is getting the protein levels high enough for good rabbit growth.
WARNING: This diary discusses housing and raising of rabbits for human consumption as well as feeding rabbits naturally. If this topic disturbs you, please do not proceed.
Part of the permaculture principles is to avoid bringing in things if you can or are growing something that would work instead.
In permaculture they say that often the problem is the solution – got weeds in your veggie patch? They may well be suitable (free) rabbit food for feeding rabbits naturally!
RELATED: Colony vs cage raising rabbits
The benefits to feeding rabbits pellets
Pellets are an option for feeding rabbits. The pluses are they are a complete food, developed for optimum growth and they are convenient.
Want to know all about raising rabbits in a colony?
Check out our very own book here: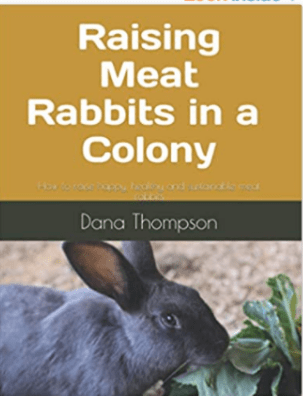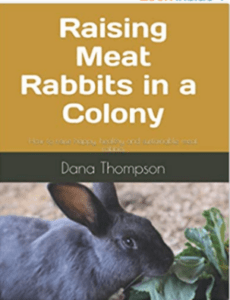 The negatives are they are very pricey (up to twice the price of the individual components); they rely on a company not screwing up the nutrition and killing your pets; they are very processed and they have no variety; and you have to bring them in from off site.
There are better ways to feed rabbits more naturally.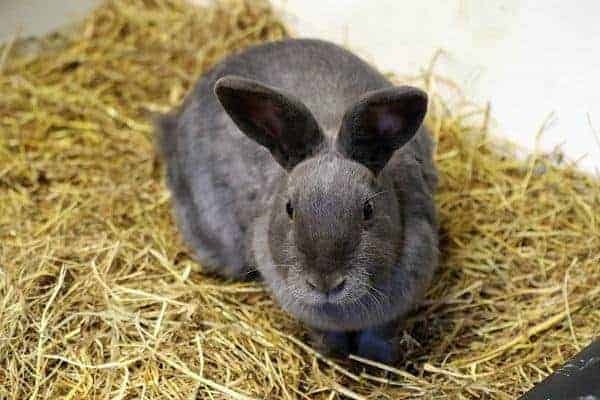 Feeding rabbits without pellets
We are aiming to be pellet-free with our rabbits. We have weaned our pallet fed rabbits on to more whole foods very slowly, a few tablespoons at a time.
This gives their gut bacteria tie to develop and change to digest the whole/fresh foods properly. These days we are feeding our rabbits a mix of lucerne hay (alfalfa), whole barley, rolled/crushed oats and pellets with free access to meadow hay and a salt block.
To this twice a day we add a range of fruit/vegetable/greens/weeds/grass for them to enjoy. We are aiming to get rid of the pellets all together once this current bag is eaten, and I would like to find a source of sunflower seeds for healthy oils to help keep their condition on for the cooler months.
Safe Foods for Feeding Rabbits
Below is a list of healthy safe foods for feeding rabbits naturally. Remember if you cannot correctly identify the plant, don't risk giving it to your bunny!
Acacia
Agrimony
Alfalfa hay/fresh
Alfalfa Sprouts
Apple – fruit, branches
Apricots – not the stone though
Artichoke Leaves
Arugula
Asparagus
Aster
Avens
Baby Sweet Corns
Banana fruit and peel
Barley grass, seeds, sprouts
Basil: Lemon, Globe, Thai, Mammoth, Sweet, Genevieve
Beech
Beetroot – greens and root
Birch
Blackberry stem – leaf and fruit
Blueberries
Bok Choy/Pak Choy**
Borage
Broccoli **
Buckwheat
Burnet
Cabbage**
Camomile
Capsicum
Carambola
Caraway
Carrot – greens and root
Cauliflower**
Celeriac
Celery
Chard
Cherry – not the stones
Chervil
Chickweed
Chicory
Chinese Cabbage**
Cleavers
Clover, WHITE
Coltsfoot
Comfrey
Coriander/Cilantro
Corn marigold
Corn spurrey
Cow parsnip
Cranberry
Crosswort
Cucumber
Currant (black and red)
Daisy
Dandelion
Dill: Fernleaf, Mammoth
Dock BEFORE FLOWERING
Eggplant – purple fruit only; leaves toxic
Endive
Fat hen
Fennel
Fir
Garden Cress
Geranium
Geum
Goosefoot
Goosegrass
Goutweed BEFORE FLOWERING
Grapes (fruit, leaf and vine are edible)
Grass
Ground elder BEFORE FLOWERING
Groundsel
Hawkbit
Hawkweed
Hawthorn
Hazel
Heather
Hedge parsley
Helenium
Hollyhock
Honesty
Horse Chestnut
Horseradish
Huckleberry
Jerusalem artichoke
Kale**
Kiwi Fruit
Knapweed
Knotgrass
Kohlrabi**
Lavender Not for pregnant does; can cause fetal expulsion
Lemon Balm
Lettuce (Dark Green/Red Leaf, Butter, Boston, Bibb, or Romaine)
Lime
Lovage
Mallow
Mango
Maple
Marguerite
Marigold
Marjoram
Mayweed
Maywort
Meadowsweet
Melon (all melons)
Michaelmas daisy
Milk thistle
Mint: Pineapple sage, pineapple mint, apple mint, orange mint, peppermint, lemon thyme, cinnamon basil, lime basil, lemon basil, sweet basil, licorice basil, "licorice mint" (anise hyssop), spearmint, peppermint, chocolate mint, and basil mint.
Mountain Ash
Mugwort
Mulberry
Mustard Spinach
Nasturtium
Nectarine
Nipplewort
Oats
Orache
Orange – NO PEEL- segments only
Oregano
Oxeye daisy
Papaya
Parsley: Curly and Flat-Leaf
Parsnip
Peach – not the stones
Pear – fruit and branches
Peppermint
Pigweed
Pineapple
Plantain
Plum – not the stones
Poplar (not black)
Pumpkin
Purslane
Radicchio
Radish**
Raspberries – fruit, twigs, and leaves
Rhubarb STALKS ONLY – POISONOUS LEAF
Rose
Rose hip
Rosemary
Sage
Salad Burnet / Small Burnet
Savory
Shepherd's purse
Silver beet
Silverweed
Sow thistle
Soya
Spruce
Squash: Yellow, Butternut, Pumpkin, Zucchini
Starfruit
Strawberry – fruit and leaves
Summer Savory
Sunflower
Swiss Chard
Tangerine
Tarragon
Thyme
Tomato – red fruit only
Trefoil
Turnip Greens
Vetch
Vine leaves
Watercress
Watermelon
Wheat
Wheat Grass, sprouts
Willow
Yarrow
Zucchini
** Give in small – moderate amounts due to gas causing properties – feeding rabbits too much may cause bloat
Limit sugary fruits to 2T per day feeding rabbit to prevent obesity and tooth decay.
Toxic Plants for Rabbits
This is a list of some known toxic-to-rabbits plants.
All plants that grow from bulbs
Amaryllis
Arum lily (cuckoo point)
Bindweed
Bracken
Bryony
Buttercup (small quantities dried within hay is ok)
Convolvulus (bindweed)
Deadly nightshade (belladonna)
Delphinium (larkspur)
Elder
Fools parsley
Foxglove
Hellebores (christmas rose)
Hemlock
Henbane
Lily of the valley
Lupin
Laburnum
Most evergreens
Oak leaves
Poppies
Potato tops
Privet
Ragwort
Rhubarb leaves
Scarlet runner toad flax
Woody nightshade
Yew
If in doubt, leave it out (don't feed it!).
Related: The Ultimate Guide to Meat Rabbits
Tell me what you feed your rabbits in the comments below!
Please pin and share!