We have a new tradition in our house – Fry-day Friday. The kids have loaded fries and we have loaded gluten free fried chicken. I have hunted high and low for a way to make gluten free fried chicken that actually looks and tastes like KFC crispy strips, and I have one.
Many recipes involve soaking in buttermilk, or several breading steps. This gluten free fried chicken recipe is super easy and skips all the hard bits.
Please read: This information is provided for educational purposes only and is not intended to treat, diagnose or prevent any disease. We encourage you to make your own health care decisions in partnership with a qualified health care professional.
This post contains affiliate links, this means at no extra cost to you, we make a commission from sales. Please read our Disclosure Statement
We make this KFC look-alike with chicken breast meat that I cut in to 1/2 inch thick long strips and we deep fry it. I have used the same coating to cover drums and cook them in the oven as well, but nothing beats fried fried chicken!
We have a deep fryer – but if you don't you can heat oil in a deep pot on the cooktop. If you do this you will need a food thermometer that you can check the heat of the oil with.
One of the key steps in making this recipe work is leaving the coated chicken to sit for about an hour before cooking it. This ensures that the breading sticks properly to the chicken and isn't lost in the oil when you fry it.
To make this chicken coating I use my homemade onion powder – you can find the recipe here.
I have served this gluten free fried chicken to people that haven't even been able to tell that it is gluten free. If you prefer you can swap out the two gluten free flours for the same amount of normal wheat flour if being gluten free is not an issue for you.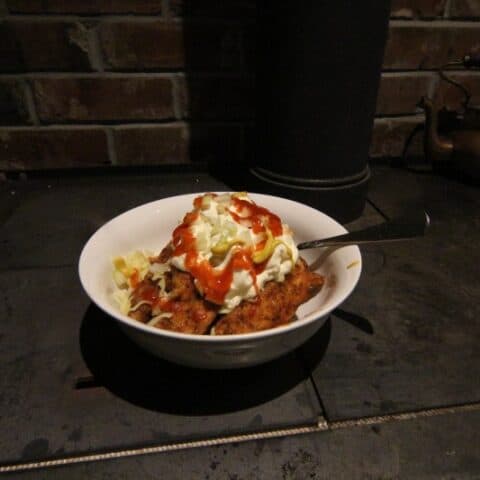 Gluten Free Fried Chicken Recipe
Yield: 4 servings

Prep Time: 15 minutes

Cook Time: 20 minutes

Additional Time: 1 hour

Total Time: 1 hour 35 minutes

Quick and easy KFC style crispy chicken - gluten free fried chicken recipe.
Ingredients
1 kg chicken breast meat (2lb)
1/2 cup Fine rice flour
1/2 cup Tapioca flour
1 Tablespoons Paprika
1 Tablespoon Black Pepper - ground
1 teaspoon Salt
1/2 teaspoon Ground cumin
1 teaspoon Dried thyme
1 Tablespoon Onion powder
1/2 teaspoon Garlic powder (optional)
1/4-1 teaspoon chilli powder - to taste
Oil for frying
Instructions
Slice the chicken in to long 1/2 inch thick strips (12mm)
Mix all the dry ingredients and spices together well
Set up a cooling rack with a tea towel underneath to sit the coated chicken on to
Dip each strip into a bowl of cold water then in to the flour mixture and toss to coat well - try to keep one hand wet and one hand dry.
Remove the chicken from the flour and sit it on the cooling rack trying to minimise them touching each other if you can
Leave the chicken to sit for about 1 hour for the coating to soak in to the water on the chicken.
Heat the oil to 170C/340F
Add the chicken strips a few at a time and cook for 5 minutes or until done.
Remove from the oil and drain for a minute or two
Notes
Serving suggestion - top with your favourite toppings - we like chopped onion, shredded cheese, gherkin, sliced chili, sour cream and sriracha sauce