This post was most recently updated on April 14th, 2017
In colder parts it is probably getting a bit too late to sow winter veg out in your garden, but some slightly warmer places might be OK, but you will want to get that done this week if you are going to give it a try.  Keeping a gardening diary with your particular sowing/planting out and harvesting dates along with first and last frost dates would be helpful in this instance.
Please read: This information is provided for educational purposes only and is not intended to treat, diagnose or prevent any disease. We encourage you to make your own health care decisions in partnership with a qualified health care professional.
This post contains affiliate links, this means at no extra cost to you, we make a commission from sales. Please read our Disclosure Statement
VEGETABLES
Chinese cabbages/greens grow fast so they might be your best bet- Bok Choi, Pak Choi and mustard greens, spinach, kohlrabi, short/early season carrots and turnips can all still be sown.
Plant out your broccoli, leeks and celery for colder months harvests.
You can lift your garlic, onions and shallots over the next few as the tops start to yellow off. Choose a day where you expect a few dry days in a row, pull them out and leave them in the sun to dry, turning once or twice a day. After this you can sit down with them and chop off the roots and grassy tops with some sharp secateurs or knife or you can leave them on and plait the top.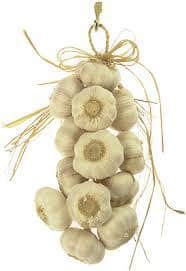 Store them in a cool dry place for up to a year.
You can get the ground ready for your next crop of onions and garlic by adding lashings of manure and some lime. Leave this for a few weeks to settle in.
If you have asparagus, now is the time to leave it to grow, to allow it to grow more roots and prepare for a better crop next year. Weed well around the plants.
Chop any flowers/seed heads off of your rhubarb, as if it flowers/sets seed you will have a terrible harvest next year. Simply cut them off at the base.

FRUIT
Fertilise you tomatoes weekly from here on in – try a liquid manure, diluted to the colour of weak tea.
As black currants are picked you can trim off the branches that have fruited to let in light and air, but leave plenty of new seasons growth as this is where next years fruit will grow.
Red or white currants on the other hand fruit on old wood, so trim back new growth by half to two thirds. Then you can cut out really old wood that has fruited for 4 or 5 years.
You can use the prunings to propagate new plants – take straight pieces 20-30cm long and push them down the edges of a pot of potting mix/sand 50/50 mix. Water them well then cover the whole thing with a clear plastic bag, leave it in a cool shady spot and leave it alone for a month or so, by this stage new growth should have started. Cut the top off of the bag to allow the plants to start hardening off (getting used tot he real world). Keep the soil moist and transplant in the early spring.
Blue berries will start ripening shortly, you can harvest cuttings in much the same way.
For further reading, I really recommend all of these books. I own every one of them and they are amazing resources!

Please Pin and Share with your friends and family!