This post was most recently updated on March 18th, 2020
There are few things I like more than having a curry and watching a movie with my hubby once the kiddlywinks are in bed. They don't even like curry. Weirdos. THIS Black Pepper Beef Curry is one of my favourites. I really love the taste of black pepper, and in this dish, it is the star of the show!
Please read: This information is provided for educational purposes only and is not intended to treat, diagnose or prevent any disease. We encourage you to make your own health care decisions in partnership with a qualified health care professional.
This post contains affiliate links, this means at no extra cost to you, we make a commission from sales. Please read our Disclosure Statement
If you are making beef curry, or slow cooking beef in general, don't buy the lean, fancy, expensive cuts of meat.
Curries are much more satisfying when they are made with meat with the connective tissue in them. This is the stuff that goes soft and melts in your mouth. AND it is is the cheaper meat. Shin beef or brisket are my favorites.
This black pepper beef curry will warm the cockles of your heart on a cold night. It reheats beautifully, so it makes great freezer meals or leftovers-lunch for home or work.
I buy my spices whole when I can, as they retain their flavor longer that way. But if all you have is pre-ground spices, by all means you can still give this a try! I would halve the measurements of the spices if you are using pre-ground ones.
If you don't have curry leaves, you can miss them out – but it won't be quite the same. Curry leaves add an aromatic background flavor to the dish.
You can find curry leaves at your local Indian grocery store. Sometimes they are frozen or dried. I bought some fresh and store them in my freezer in an airtight jar.
Give this recipe a go, you will not be disappointed!
Crockpot version: You can brown the meat, onions and garlic and fry and grind the spices then pop everything in the slow cooker on low for 6-8 hours if you prefer.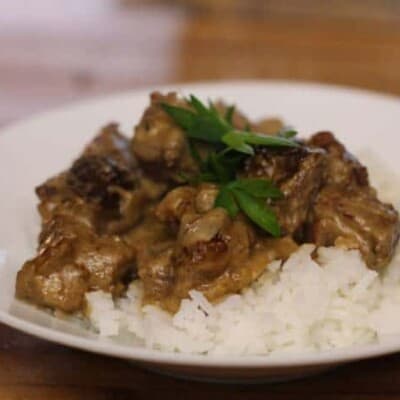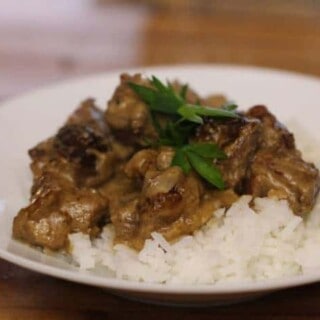 Black Pepper Beef Curry
Yield: 4

Prep Time: 30 minutes

Total Time: 30 minutes
Ingredients
1.5 kg Beef, 3lb - brisket, shin beef, gravy beef.
2 medium Onions, diced
4 cloves garlic, peeled and chopped
1 inch Piece of Fresh Ginger, peeled and chopped
2 Tablespoons dripping/lard/cooking oil
1 Tablespoon Coriander Seeds
1 Tablespoon Cumin Seeds
2 teaspoons Fennel Seeds
1 Tablespoon Whole Black Peppercorns
1 Long Dried Red Chilli
8 Curry Leaves
2 Tablespoons Lemon Juice
1 Cup Coconut Cream
1 Cup Water
1 teaspoon Salt
Instructions
Chop your beef into 1 inch cubes.
In a large flameproof (can go on the cooktop and in the oven) dish brown the meat, onions, ginger and garlic in the fat/oil.
In a second pot over medium heat add the coriander, cumin, fennel and pepper. Stir constantly for 3-5 minutes to release the aromas.
Put all the spices from the pot, plus the dried chilli, salt and curry leaves in a mortar and pestle or a spice grinder and process until the are a rough powder.
Add the spices and liquids to the beef and stir well. Cover with a lid.
Bake at 180C/350F for 2-3 hours or place in a slow cooker on low for 6-8 hours. In the oven remove the lid for the last 30 minutes to allow it to dry out and brown up.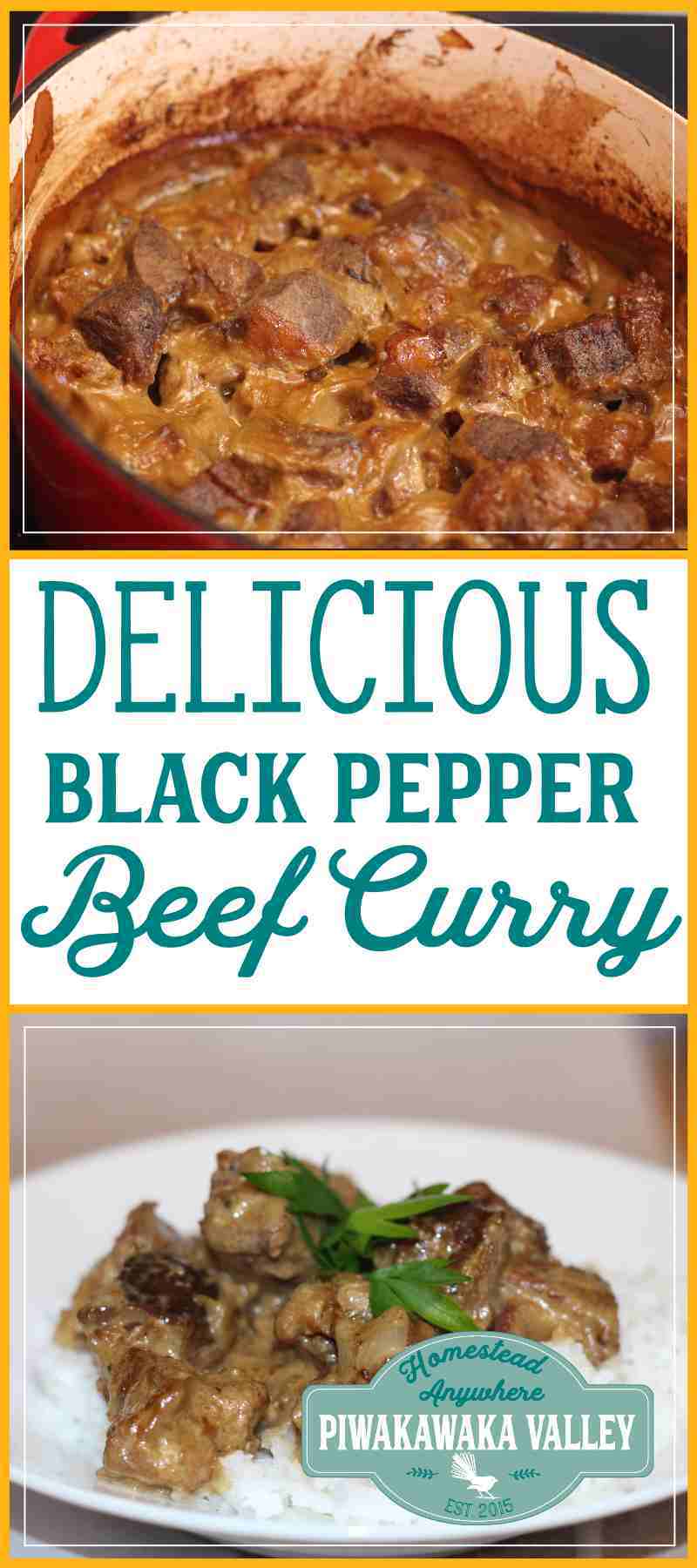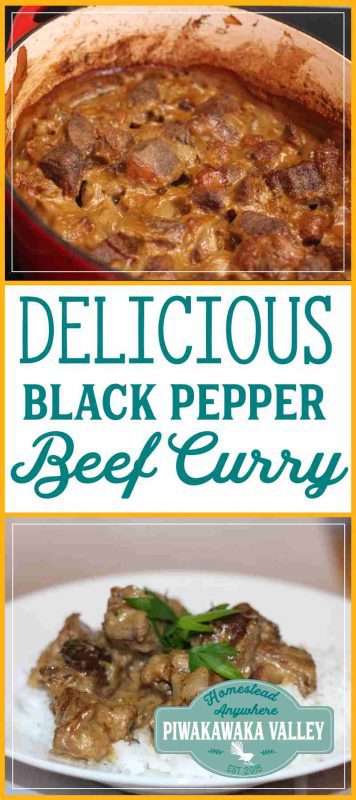 Black Pepper Beef Curry – – Beef (3lb – brisket, shin beef, gravy beef.), Onions (diced), garlic (peeled and chopped), Piece of Fresh Ginger (peeled and chopped), dripping/lard/cooking oil, Coriander Seeds, Cumin Seeds, Fennel Seeds, Whole Black Peppercorns, Dried Red Chilli, Curry Leaves, Lemon Juice, Coconut Cream, Water, Salt, , Chop your beef into 1 inch cubes.; In a large flameproof (can go on the cooktop and in the oven) dish brown the meat, onions, ginger and garlic in the fat/oil.; In a second pot over medium heat add the coriander, cumin, fennel and pepper. Stir constantly for 3-5 minutes to release the aromas.; Put all the spices from the pot, plus the dried chilli, salt and curry leaves in a mortar and pestle or a spice grinder and process until the are a rough powder.; Add the spices and liquids to the beef and stir well. Cover with a lid.; Bake at 180C/350F for 2-3 hours or place in a slow cooker on low for 6-8 hours. In the oven remove the lid for the last 30 minutes to allow it to dry out and brown up.; ; – Serve on rice with some <a href="https://piwakawakavalley.co.nz/sourdough-tortilla/">sourdough Naan.</a> – Main Dish – Cook – Recipe