My hubby (bless his belly) can only have wheat things that have been fermented or soured. So any wraps/flat bread we have in the house I make from sourdough.
Do want to know a secret? Sourdough Wraps, Sourdough Tortillas and Sourdough Naan – I use the same recipe shhhhhhh
Please read: This information is provided for educational purposes only and is not intended to treat, diagnose or prevent any disease. We encourage you to make your own health care decisions in partnership with a qualified health care professional.
This post contains affiliate links, this means at no extra cost to you, we make a commission from sales. Please read our Disclosure Statement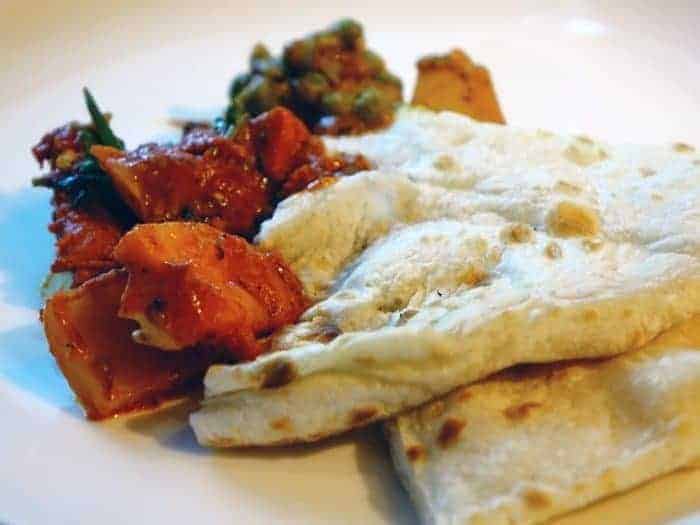 How I make Sourdough Tortillas
On the morning of the day before wraps/tortilla/naan day I feed up my sourdough bug with 1/2C flour and 1/3C water and sit aside.
That evening I mix the active starter sourdough bug with 4C flour, 2T olive oil, 1/2C yogurt (if I have some, if not, then I just add more water), 2t salt, and 2 1/2 C water to make a soft dough. Then I put it in the fridge until the next afternoon to let the sourdough work it's magic.
Late afternoon of wraps/tortilla/naan day I take it out of the fridge, give it a light knead and break it into large golf ball sized bits.
For wraps and tortillas I roll it out to about 2mm thick on a well floured bench.
For naan I tend to make them 4-5mm thick.
I cook these on a dry (un-greased) Griddle pan or cast iron fry pan that has been preheated for 5-10 minutes at about half heat. Too hot and they burn, too cool and they dry out before cooking properly. See what works on your elements at your place.
They should take 30-60 seconds per side, then pop them between either two tea towels or as I prefer, two sheets of foil. They steam while sitting in there, getting nice and soft and pliable.
Serve warm with your favourite meals – indian, turkish or mexican!
Store any leftovers in a sealed container for up to 4 days. They do freeze well.
Do you want more recipes, tips, tricks and processes to make the most delicious sourdough? Check out our book: