This post was most recently updated on May 11th, 2021
This canvas waterproofing recipe uses natural ingredients to create a waterproof coating on the fabric of choice. You can use it to waterproof canvas clothing, shoes, bags, tents, leather, even fabric tarpaulins and wood!
Please read: This information is provided for educational purposes only and is not intended to treat, diagnose or prevent any disease. We encourage you to make your own health care decisions in partnership with a qualified health care professional.
This post contains affiliate links, this means at no extra cost to you, we make a commission from sales. Please read our Disclosure Statement
Also known as waxed canvas, waterproof canvas (or other cotton fabric) can be used to make clothing items, as a natural tarp alternative ( a canvas tarp is a durable, eco friendly option) or as a tent in an emergency situation. They also work well as a drop cloth, as it will repel any spilt liquid.
This waterproofing solution is perfect for using on an old, leaking canvas tent or to polish your leather shoes, or even as waterproofing on a canvas bag or other clothing items.
I don't know if you follow the Rhodes on Youtube or not (if you don't, you should), but I have always wanted one of his aprons.
We live so far away, that it isn't really worth the shipping to get one from the USA, so I started looking in to making oilcloth at home. It turns out waterproofing canvas is not difficult once you know how.
RELATED: DIY beeswax wraps that really work
Why I love my Natural Oilcloth Apron:
I really love wearing my waterproof, oil cloth apron outside in the garden and on the farm.
It protects my clothes from mud and water
It is wipeable when doing messy tasks like processing chickens
It has POCKETS! I keep my knife, gardening gloves, secateurs and wire weeder all there ready to go.
Pockets is such a big thing for me. Someone decided that women's clothing doesn't need pockets and it was a dumb decision. Having a hard wearing apron that both protects my clothes and carries my utilities is SUPER helpful.
How to waterproof cotton canvas at home
There are a few oilcloth waterproofing recipes out and about. This is a very old, traditional method of waterproofing items from well before plastic was a thing.
You can waterproof fabric by simply adding many many layers of boiled linseed oil, allowing it to dry in between coats.
I chose not to follow this waterproofing method because 1) It takes ages for it to dry between coats 2) Nope, that is about it. I am impatient.
DIY Oilcloth Apron: Homemade canvas waterproofing recipe
To make my own oilcloth apron, I actually bought this canvas apron. I could have made one, but canvas here is expensive, and it is too heavy duty for my sewing machine. I wanted TOUGH.
Look at how many pockets it has! I love it.
Next I bought all the ingredients to make the oilcloth waterproofing:
And I gathered an old pot, a stirring stick and a paintbrush.
Ideally you would do this outside on a campstove as 1) it stinks and 2) it is flammable.
This canvas waterproofing recipe is easy to make and will last in a sealed container for a very long time. You can use your canvas waterproofing mixture either warm and paint it on with a paintbrush, or you can use it once is it more like a paste.
If you wait for the waterproofing mixture to become more solid/paste like you can rub it in to your fabric with an old cloth.
This is perfect to take with you when you go camping or hunting, you can use it to re-waterproof tents, shoes, bags and other fabrics.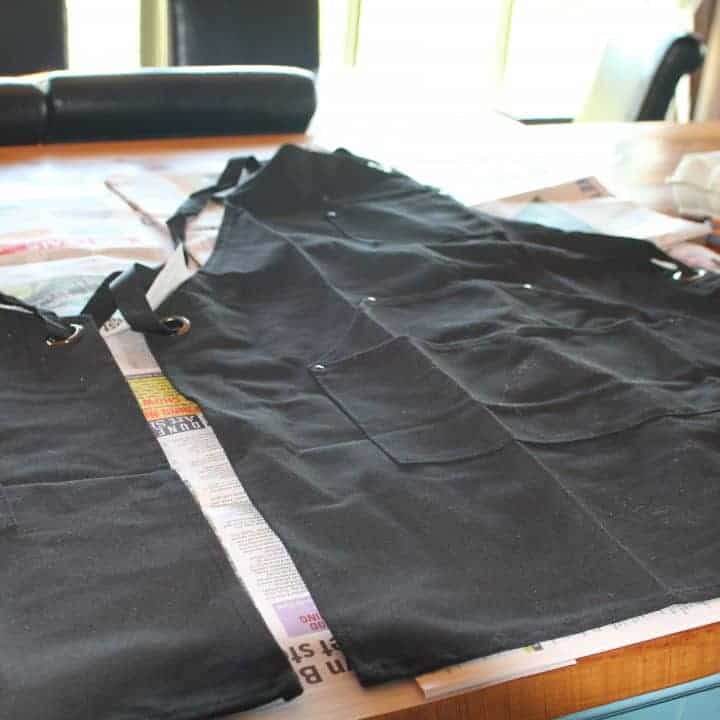 DIY Oilcloth Aprons: How to Waterproof Cotton Canvas
Total Time:
1 day
40 minutes
Make your own homemade canvas waterproofing to use on the homestead
Materials
8oz Turpentine (200ml)
8oz Boiled linseed (200ml)
1/2 lb beeswax (250g)
Canvas apron, bag, sheet or whatever you want to waterproof
Tools
Old pot or coffee can
Larger pot
Stirring stick
Paint brush (it will get ruined)
Instructions
In your old pot place the small pieces of beeswax
Over a medium heat place the larger pot with water in it
Add the coffee can or old pot/bowl so that it floats in the water. As the water boils it will melt the wax while minimizing the risk of the beeswax bursting into flame.
Once the beeswax is melted, slowly add the linseed oil and re-warm until the wax is melted again.
Add the turps and stir well.
Lay out your canvas apron on top of several layers of newspaper
Paint the liquid mixture on to the fabric, using the brush to work the mix into the fabric.
If the mixture in the pot starts to harden, simply reheat on the stove again.
Once the garment is covered, hang it somewhere that is well ventilated for 24 hours or more to let the smell dissipate.
Notes
You can use this mixture to waterproof large sheets of canvas to make non-plastic tarpaulins - simply stretch the fabric out on a wooden frame and paint it with 1-2 two coats of the mixture.
The mixture can be stored at room temperature and you can use it as a solid by working it in to the fabric with another rag or a shoe brush.
Recommended Products
As an Amazon Associate and member of other affiliate programs, I earn from qualifying purchases.
Can I use instead of ?
Yes you can, they will work in the same proportions. The reason we prefer beeswax is that it is a more natural product and we can source it locally. But if you have paraffin wax, by all means you can use it.
Can you put this in a to make a ?
Because this waterproofing mixture is quite thick and needs to be applied warm, it is not suitable to use in a spray bottle. It does work well put in to a small tub and applied with a rag even once cool and hardened. To be able to use it in a spray bottle you would need to add significantly more mineral spirits or turpentine to make it a thinner liquid and then you would need to apply several coats to allow the waterproofing solution to build up on the fabric.
How do you store your ?
Once you have your waterproof material, you will need to store it carefully to ensure it lasts well. Be sure not to put away your waxed fabric damp as it will develop mildew or mold on it. Leave it out of direct sunlight to fully dry before folding and storing them somewhere cool and dry.
Can I use ?
Boiled linseed oil actually has not been boiled, it is treated with hot air and additives so that it dries faster. Raw linseed oil can be used in this recipe, but it might take a week or more to cure, whereas boiled linseed oil will cure in about 24 hours.
How do I wash oiled ?
If your oiled or waxed fabric gets dirty, and you decide that you need to clean it, ideally you would do so in cool water without a laundry detergent. If you need to use warm water or detergent, then you will find that it compromises the waterproofing quality of the fabric and you will need to re-apply the waterproofing compound once the fabric is totally dry.
How can you waterproof your canvas naturally?
This recipe uses all natural ingredients to waterproof fabric. Beeswax is extracted from hives as a byproduct of harvesting honey, linseed oil is from linseed – flax plants, and turpentine is extracted from pine trees.
How often should you waterproof canvas?
It very much depends what you are using it for and how often you use it. A tent used once a year will probably only need re-coating every 3-5 years or longer. An apron you use daily might need re-coated every 6-12 months. When the waterproofing is no longer effective, that is when you can add more to the fabric. Keep a small tub of the waterproofing mixture and a rag in with the tenting gear so you always have some on hand just in case.