It is a yearly tradition in our house to make gingerbread houses at the beginning of the Christmas season. The kids (and me!) love making them and they sit on the bench until Christmas smelling divine and looking festive.
The trick is to find a good gingerbread recipe that makes a super large batch. Below is the large gingerbread recipe we use.
Please read: This information is provided for educational purposes only and is not intended to treat, diagnose or prevent any disease. We encourage you to make your own health care decisions in partnership with a qualified health care professional.
This post contains affiliate links, this means at no extra cost to you, we make a commission from sales. Please read our Disclosure Statement
It makes 3 houses of a smallish size, 2 moderate sized ones or one massive villa style house and some spare cookies.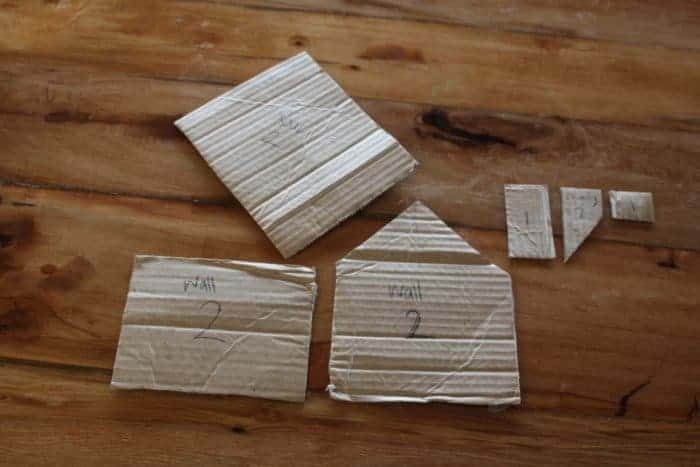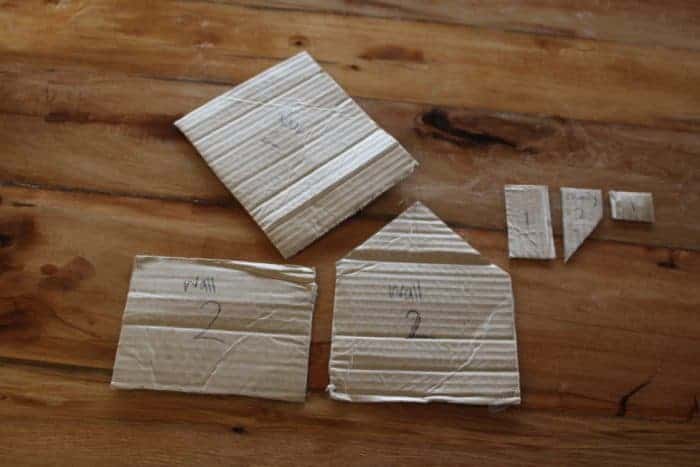 To make a template use a corrugated cardboard box, it will help you work out how it will fit together. Ours are about 13cm (5in) across the front and 15cm (6in) long.
Alternately you can buy a cookie cutter set that takes all the guess work out of it, and you can re-use it each year.
To make the front make a rectangle 13cm (5in) wide and 12cm (4.5in) high, in the center of the top line measure up 5cm (2in) and make a mark, make an angled line down from that mark to each of the top corners, this will give you the peaked roof.
You can use cookie cutters to cut out fancy shaped windows or doors, even try your hand at making a chimney.
If you want windows, you can crush solid sugar candy up and sprinkle them in the gaps.
Large Gingerbread House Recipe
Ingredients:
360g soft butter
3C packed brown sugar
4 large eggs
2 C treacle (you can substitute for golden syrup or molasses)
12 C flour
1t salt
2t baking powder
2 1/2 T ground ginger
2 1/2 T mixed spice (or a blend of cinnamon, cloves and allspice)
Method:
In a stand mixer cream the butter and sugar. You can do this by hand, however the batch is quite large so the stand mixer makes it so easy.
Add the eggs and treacle and beat for 3 more minutes.
On slow add in 1/2-3/4 of the flour plus all the other ingredients.
Once combined remove from the mixer and add in the rest of the flour and knead to combine.
If it is too dry you can add 1-2T of water.
Cover the bowl with a damp teatowel and refrigerate for 1-2 hours or up to 3 days.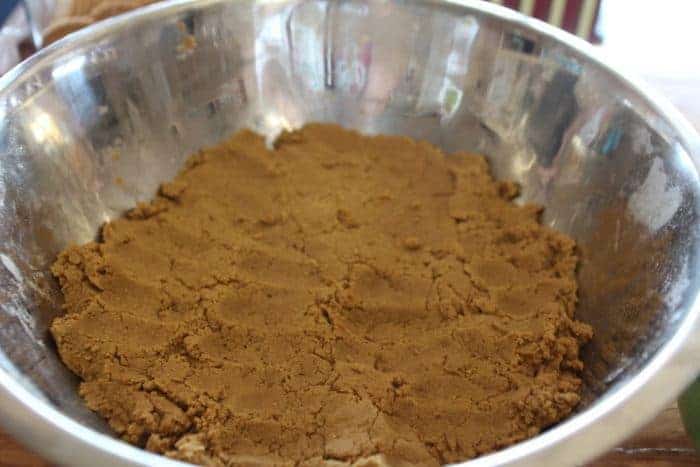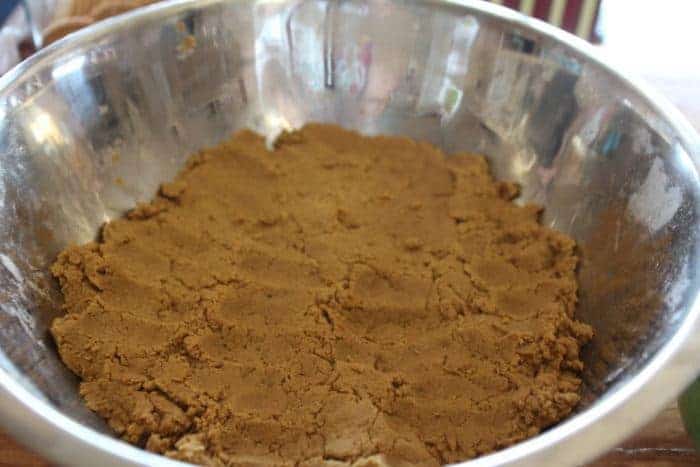 Once you are ready to roll out your dough, leave it on the bench to warm up for 20 minutes or so.
Divide it into manageable sized pieces and roll out to 5-8mm thick, leaving the rest covered with the damp teatowel.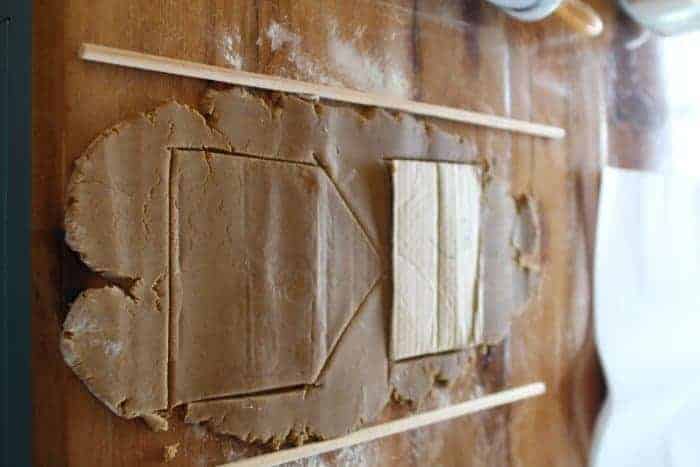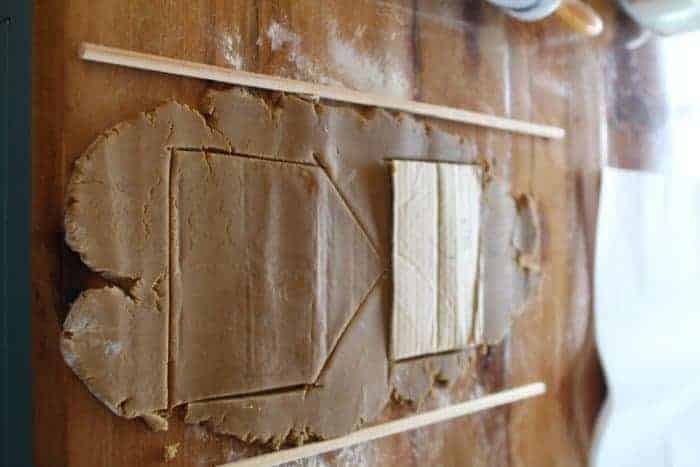 I find using dowels to guide the rolling pin really helpful for making sure the pieces are all the same thickness. Or you can get one of the rolling pins with the pin rings.
Or you can use the handles of wooden spoons for a similar effect.
Cut out your design, re-rolling the dough as necessary.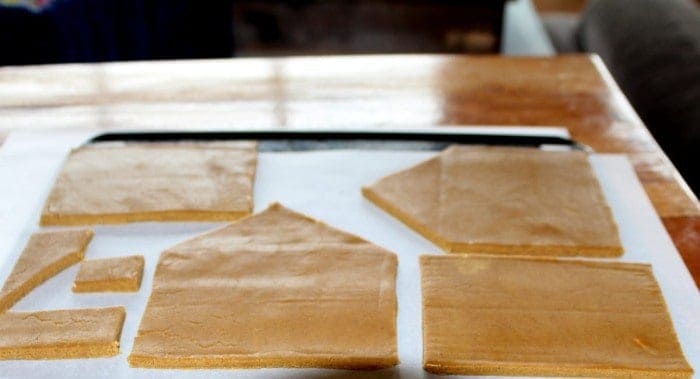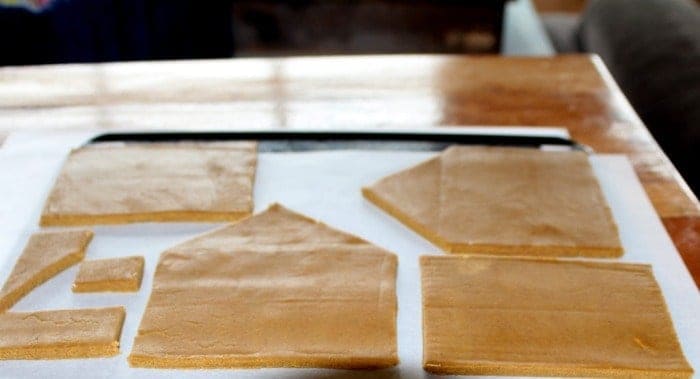 Bake on baking paper at 180C/350F for 13-15 minutes or until dark golden. While they are hot and soft you can re-trim any stretched edges if you like so they fit together better.
Once cool, you can ice the together with royal icing. This process is slow and painstaking, but the longer you can leave each join to dry before adding more, the less likely they are to collapse!
Use plenty of icing-glue, and allow 20-30 minutes for the walls to dry before you attempt to add the roof.
Royal Icing Recipe – Mega batch
Beat 4 large egg whites until very thick.
Beat in 2T of lemon juice (or water) and 1kg/2Lb of icing sugar.
You can add additional water or icing sugar if it is too thick or too thin depending on the size of your egg whites, but I find 4 whites to 1kg to be pretty much perfect.
I put the icing in to several ziplock bags and cut the end off, one for each house-maker.
Then we set up bowls of lollies up the table and let the kids have at it. Below is a gallery of a few years we have done this.
What Christmas traditions do you have in your family? Let me know in the comments below!
Gingerbread houses from 2014:
Gingerbread houses from 2015: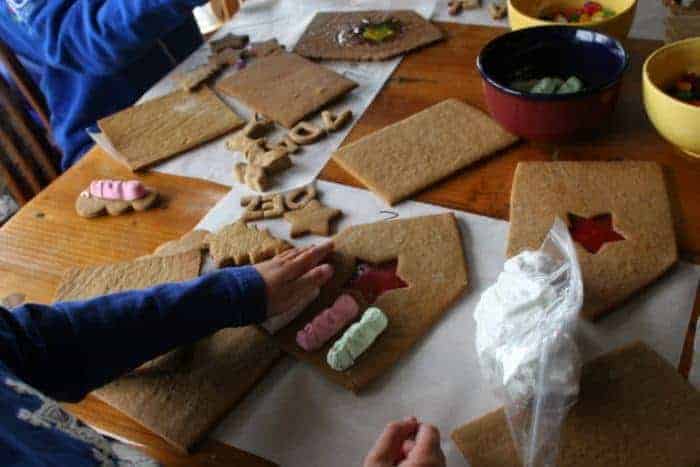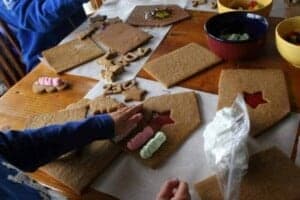 Please Pin and Share with your Friends!