This post was most recently updated on January 26th, 2021
Egyptian women used to drink sage in tea for increasing fertility. While Hippocrates prescribed this herb for healing. In the Medieval era sage was used after meals to prevent indigestion and at some stage in history, the Chinese traded their finest tea for this sought after herb. Learn how to grow sage in your garden by following these easy tips.
Please read: This information is provided for educational purposes only and is not intended to treat, diagnose or prevent any disease. We encourage you to make your own health care decisions in partnership with a qualified health care professional.
This post contains affiliate links, this means at no extra cost to you, we make a commission from sales. Please read our Disclosure Statement
The medicinal reputation of sage reflects in its genus name Salvia, which was derived from the Latin Salvere which means to save or to heal.
Sage is a great herb for beginners and experienced gardeners to grow in the herb garden!
It is not very clear when sage moved out of medicine cabinets and into kitchens, but it increased in popularity through the Middle Ages.
Sage is a very powerful antibacterial and antioxidant, so the culinary use more than likely began as a type of preservative more than a flavoring.
In the earlier recipes, sage was used frequently with meat on in sausages. This also had to do with its ability to break down the fats present in certain types of food.
Today, sage is one of the popular choices for kitchen gardens as it is easy-to-grow, good-looking and useful.
It provides a long harvesting season and it holds flavor very well once dried. It also produces beautiful flowers into the early part of summer and comes in a variety of colors and sizes.
The leaves of a sage plant are usually gray-green with a pebbly or leathery appearance, although you can also get a purple sage.
The fragrance of these plants vary from a sweet perfume from lavender or fruit, to a strong balsam aromatic odor.
Most varieties are native to Mediterranean regions of Asia Minor and southern Europe. These plants typically prefer rocky, dry, and sunny slopes and work well with rosemary, marjoram, golden oregano, and low-growing thymes.
How To Grow Sage in the Herb Garden
This Mediterranean herb requires full sun and does not like wet feet or summer humidity.
Good air circulation and drainage are important to maintain healthy plants. Sage can be grown in pots, especially in coastal and humid regions where the soil may be too wet for it to thrive in the ground.
Sage can grow in poor soil, yet improving your soil with manure and compost before planting will improve its growth.
You can boost the calcium levels with an application of lime or dolomite which mimics the Mediterranean soil conditions where the ground is less acidic.
You can either buy sage plants from your local nursery or you can grow the herb from seed.
If you are growing from seed sow directly in to the garden after the last frosts in spring and you can expect the seeds to germinate within 3 to 4 weeks.
Water your seeds with an eco-seaweed which will enhance the success rate and make sure you only mulch lightly.
Pruning And Fertilizing Sage Plants
Sage will do well when you apply either lime or dolomite every 6 months to boost the calcium levels in the soil.
It is also recommended to apply a combination of compost and seaweed solution every month which will enhance the flavor of the leaves and keep your herbs growing to their maximum potential.
When it comes to pruning, sage does not require much attention. Trim the flower-spikes back at the end of summer and that's all that is really needed.
If the plant is starting to look a bit spindly, you can trim it right back in winter and it will come away with fresh leaves in spring time.
RELATED: The benefits of herbal medicine
RELATED: Top 10 Medicinal Herbs
Harvesting Sage Leaves
Pick the leaves individually as needed throughout the plant's growing season. You can use these herbs fresh or you can allow them to dry for future use.
You can pick up to 2/3rd of the leaves without adversely affecting the plant's growth.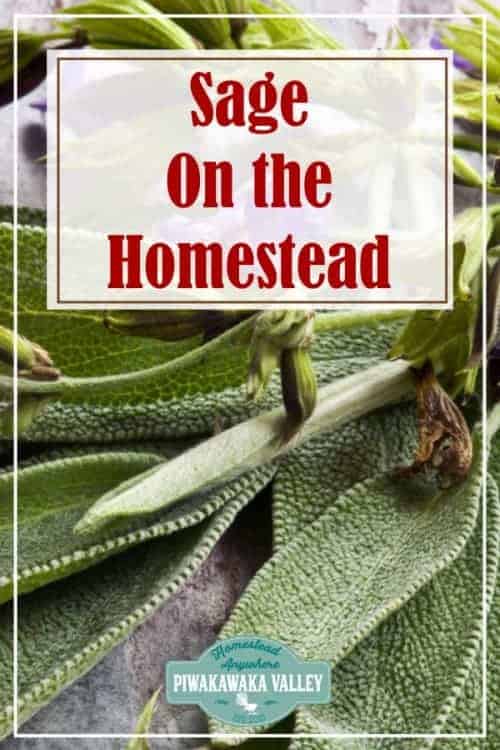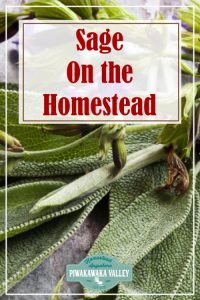 Diseases And Pests on Sage
Sage is typically one of the easy-care herbs, yet there are a few potential issues that may crop up every now and again:
Powdery Mildew
Solution: reduce overhead watering, increase the airflow and make sure the foliage stays dry.
Caterpillars
Solution: remove these pests by hand.
Mealybugs
Solution: invest in mealybug-munching ladybugs.
4 Reasons why sage deserves a spot in your garden:
1. Sage Is Easy To Grow
This evergreen, perennial shrub is very easy to grow from seed and once it is established there is little or no maintenance required.
It grows best in well-draining soil and full sun. If you are into companion planting, then plant your sage directly next to cauliflower, cabbage, and broccoli.
Make sure you choose one of the edible sage varieties which include Tri-color sage, Garden sage, Golden sage or Purple sage.
2. Sage Smells Beautiful
Sage will add a distinctive earthy tone to your herb garden and the flowers are pretty.
3. Sage Repels Many Of The Common Garden Pests
If you plant sage outdoors it can help to keep away the pests that munch on vegetables such as carrot flies and cabbage moths.
Sage is a definite must for any of the organic gardeners.
Are you interested in learning more about using herbs and herbal medicine in your life? Find out more about the herbal academy courses here
4. Sage Attracts Pollinators
Sage plants are well-known for attracting bees, hummingbirds, and butterflies due to their aromatic and earthy tones.
These beautiful creatures will add to the vibrancy and colors in your garden, while at the same time helping with pollinating the other plants and flowers in the surrounding areas.
With a highly intense flavor that is reminiscent of mint, lemon, and eucalyptus, sage is one of those outstanding culinary herbs to have in your home.
For further reading, I recommend these resources: