This post was most recently updated on January 26th, 2021
Thyme is an ancient herb that is mainly used in gardening as a ground cover, and also in the kitchen as a food flavouring. It also has many herbal medicine uses around the home. It is a very attractive plant and has the ability of thriving in any climate. Thyme is also very easy to plant and also very simple to take care of and can be harvested all year round. Here is my guide on growing thyme for beginners.
Please read: This information is provided for educational purposes only and is not intended to treat, diagnose or prevent any disease. We encourage you to make your own health care decisions in partnership with a qualified health care professional.
This post contains affiliate links, this means at no extra cost to you, we make a commission from sales. Please read our Disclosure Statement
Growing Thyme for Beginners
1. Buying The Seedlings From A Nursery
You will need to buy the thyme seedlings, grow them from seed, or you can take cuttings from another plant – just pull out some with some roots attached.
The most common types of thyme include common thyme, lemon thyme, mother of thyme and garden thyme.
2. Plant The Seedlings In Full Sun
You should plant the seedlings when the ground is warm and space them about 20 centimetres to 35 centimetres apart as they spread well.
You should also provide them with an environment that has good drainage because thyme thrives well in dry and sandy soil.
Thyme can also be planted as a ground cover, around stones, near a wall or in plastic containers.
Ideally, you should also maintain the soil pH at about 8 because thyme does better in alkaline conditions rather than acidic condition therefore if the pH is low you should consider raising it. However, it is a pretty hardy plant, and will grow most places without complaint.
3. Control The Weeds
You should also consider controlling weeds around the plants through mulching or through weeding and surrounding with sand or fine gravel, which can help with improving drainage around the plants. You can also consider organic matter like leaves, lawn clippings or bark as a means for mulching.
4. Let The Soil Dry Completely Between Watering
Watering plants is very important however you should not water thyme too often.
You should only water when you see the soil around the plants has gone completely dry. Thyme naturally lives in very dry areas, and will suffer root rot if the soil is too water logged.
Are you interested in learning more about using herbs and herbal medicine in your life? Find out more about the herbal academy courses here
5. Avoid Over Fertilizing
You should avoid over fertilizing your thyme plants. This is because thyme does not need a lot of nutrients to survive.
In addition to this adding too much fertilizer may lead to the plants losing flavour. Think of a hot, rocky outcrop, that is the sort of place thyme grows in the wild.
6. Harvest Thyme Before The Plant Flowers
You should consider harvesting thyme before the plants flowers for maximum flavour.
Thyme tends to bloom very tiny lavender, white or pink flowers that the bees love. It is highly recommended that you harvest the thyme before the flowers begin to open, if you are planning to use the thyme for culinary purposes or hang the branches to dry to use later.
However this should not stop you from letting the flowers bloom, as they are beautiful and very beneficial for the garden.
7. Dry The Harvested Thyme Somewhere Shady
Dry the harvested thyme in a well-ventilated area out of direct sunlight.
You can also dry them by placing them on a tray and then putting them in a dehydrator. Once the pieces are dry the leaves fall off the stems completely, so you can rub them off and discard the stalks.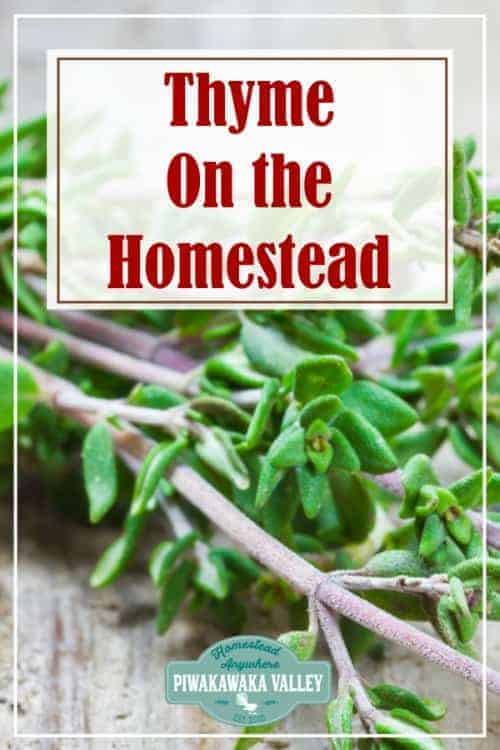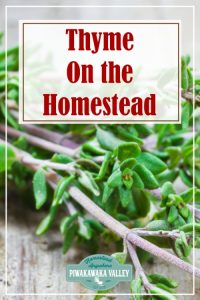 Medicinal benefits of Thyme
RELATED: The benefits of herbal medicine
RELATED: Top 10 Medicinal Herbs
1. It Lowers Blood Pressure
Thyme is known to lower blood pressure.
2. Thyme Helps With Coughing
Thyme is known for being a natural cough remedy. When combined with ivy leaves thyme helps reduce coughing and also helps with acute bronchitis.
3. Thyme Boosts Immunity
Thyme has both vitamin C and Vitamin A which are essential for boosting your immunity. Growing and consuming thyme can have a significant positive effect on your health since it will help increase your immunity.
4. It Serves As A Disinfectant
Thyme has disinfectant properties. It particularly helps deal with various types of fungi such as mould.
5. It Helps Deal With Pests
Thyme contains ingredients that serve as pesticides both for outdoor and indoor pests. It helps deal with bacteria, viruses, mites, ticks, fleas, mice and also rats.
Thyme has some extracts that are also capable of repelling mosquitoes, so you can grow it in pots around your patio.
6. It Can Help Boost Your Mood
Thyme oil is very aromatic and can boost your mood and make you feel happy and alert.
7. It Is Essential In Food
Thyme is a wonderful ingredient that can be used for food. It is mainly used in France, Italy and other Mediterranean countries.
It is commonly used with white fish, pasta, tomatoes, mushrooms or with cheese.

For further reading, I recommend these resources: