This post was most recently updated on April 1st, 2021
After doing some reading, some watching and some thinking, we are trying to reduce the amount of sugar we are consuming. Alongside this are are trying to increase the nutrients we are getting. This has resulted in the creation of a few sweet treats that contain no refined sugar and no fake sweeteners.
Please read: This information is provided for educational purposes only and is not intended to treat, diagnose or prevent any disease. We encourage you to make your own health care decisions in partnership with a qualified health care professional.
This post contains affiliate links, this means at no extra cost to you, we make a commission from sales. Please read our Disclosure Statement
As a purely coincidental thing, this chocolate slice is also Dairy Free, Gluten Free, Raw, LCHF, and Vegan. Even the frosting!!
Like many of these sorts of recipes, you can swap out the seeds/nuts/fruit for what you have laying around. Cacao powder is full of amazing minerals, but if you don't have any, cocoa will do in it's place.
Walnuts are high in omega oils, and cashews are high in niacin. Both of these chemicals are essential to life and have been shown to help combat depression. Maybe we should have called this recipe Happiness Squares!
I have made this into a chocolate slice, but if you prefer you can roll the mixture into bliss balls and then coat them in the frosting, or forgo the icing all together.
This makes a really big batch – you could easily halve all the ingredients for a smaller slice.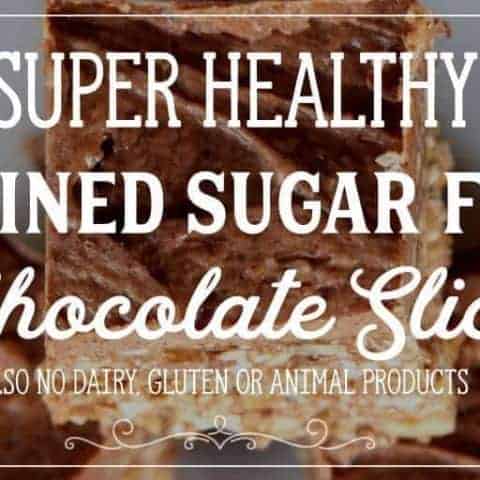 Dairy, Gluten and Refined-sugar free Chocolate Slice
Total Time:
1 hour
20 minutes
This delicious chocolate slice is Dairy Free, Gluten Free, Raw, LCHF, and Vegan. Even the frosting!!
Ingredients
Slice
1 Cup Peanuts
1 Cup Walnuts or Pecans
1 Cup Raw Cashews
1 1/2 Cup Desiccated Coconut
1 Cup Sunflower Seeds (hulled)
1 Cup Dried Apricots
1/2 Cup Dates
1 Cup Coconut Oil
1/2 Cup Peanut Butter, or other nut/seed butter
1/2 Cup Cacao Powder, or cocoa
1 teaspoon Vanilla Paste
Frosting
1/2 Cup Coconut Oil, soft but not melted
2 Tablespoons Cacao Powder
1 teaspoon Vanilla Paste
2 Tablespoons Pure Maple Syrup, or raw honey
Instructions
In a food processor place all the nuts, seeds, dried fruit and coconut and process until they are a fine crumb.
Then add the first measures of coconut oil, vanilla and cacao powder and the peanut butter. Process well until uniform in texture.
Press firmly into a lined 12x8" brownie or slice pan.
In another bowl add all the frosting ingredients at once. Beat well until light and fluffy.
Spread frosting over the top of the slice and place in the refrigerator for 2 hours to set.
Once set, cut in to 1 inch squares with a sharp knife. Store in a sealed container in the fridge to keep the icing firm.
You can also use this dairy free refined sugar free frosting for the topping of a cake. I would suggest you store anything iced with it in the fridge, as the coconut oil melts at room temperature, and that would be a disaster.
Please pin and share with your friends!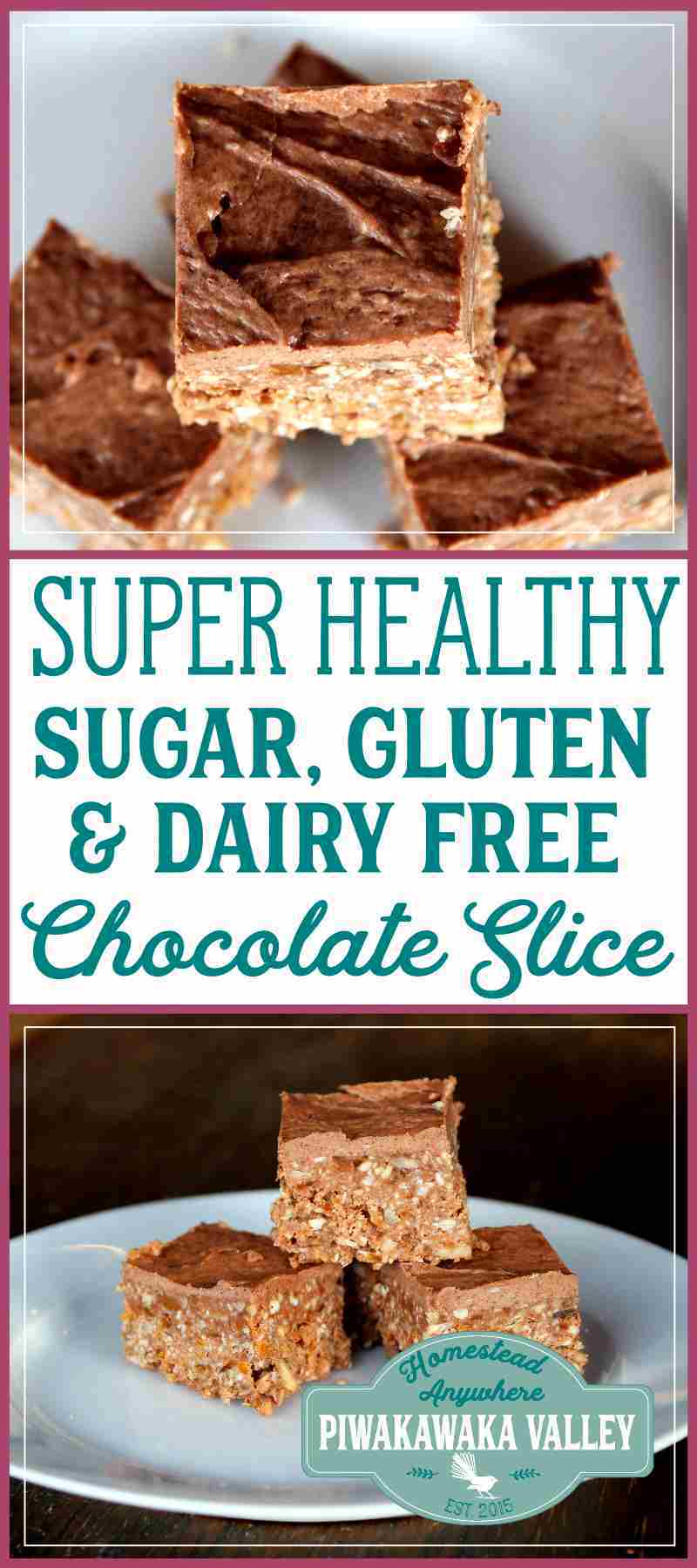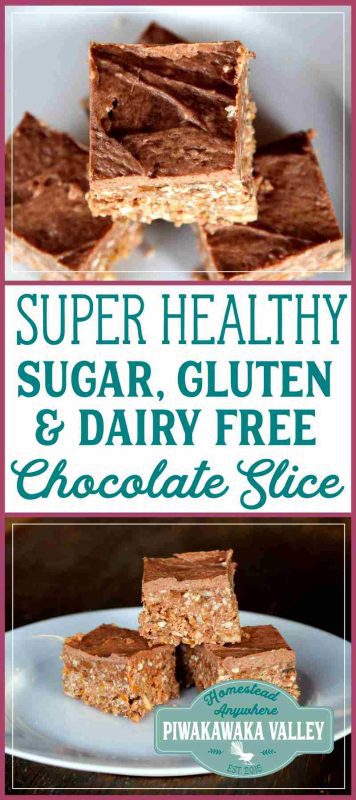 [wpurp-searchable-recipe]Dairy, Gluten and Refined-sugar free Chocolate Slice – This delicious chocolate slice is Dairy Free, Gluten Free, Raw, LCHF, and Vegan. Even the frosting!! – Slice: Peanuts, Walnuts or Pecans, Raw Cashews, Desiccated Coconut, Sunflower Seeds (hulled), Dried Apricots, Dates, Coconut Oil, Peanut Butter (or other nut/seed butter), Cacao Powder (or cocoa), Vanilla Paste, Frosting: Coconut Oil (soft but not melted), Cacao Powder, Vanilla Paste, Pure Maple Syrup (or raw honey), , In a food processor place all the nuts, seeds, dried fruit and coconut and process until they are a fine crumb.; Then add the first measures of coconut oil, vanilla and cacao powder and the peanut butter. Process well until uniform in texture.; Press firmly into a lined 12×8" brownie or slice pan.; In another bowl add all the frosting ingredients at once. Beat well until light and fluffy.; Spread frosting over the top of the slice and place in the refrigerator for 2 hours to set.; Once set, cut in to 1 inch squares with a sharp knife.
Store in a sealed container in the fridge to keep the icing firm.; ; – – Baking – Sweet – Cook – Baking – Gluten Free – LCHF[/wpurp-searchable-recipe]