This is a super easy, super yummy twist on the classic rocky road recipe. White Chocolate Rocky Road – all the awesomeness of normal rocky road but with WHITE CHOCOLATE. Please do use white eating chocolate rather than melts or buttons, you will thank me in the end – the taste is so much nicer using real chocolate.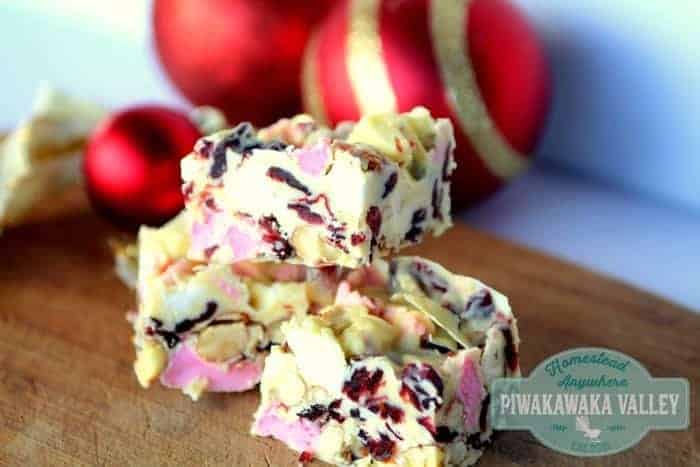 Please read: This information is provided for educational purposes only and is not intended to treat, diagnose or prevent any disease. We encourage you to make your own health care decisions in partnership with a qualified health care professional.
This post contains affiliate links, this means at no extra cost to you, we make a commission from sales. Please read our Disclosure Statement
White chocolate rocky road makes the perfect gift for friends and family. Simply place in a jar and add a ribbon and tag and you are good to go! Store the rocky road in the fridge until you are ready to gift it to ensure it doesn't get too warm and melt.
This recipe uses 3 x 200g blocks of chocolate. If you have 250g blocks you can just use two (for a total of 500g/17 oz)) just reduce the butter content to 80g (2 1/2 oz).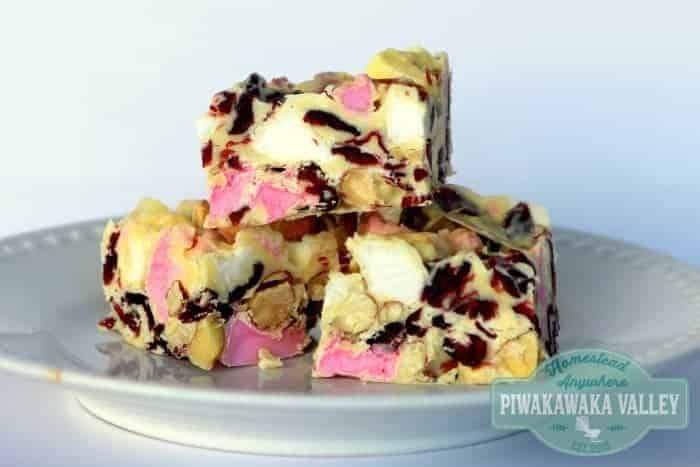 White Chocolate Rocky Road
INGREDIENTS:
600g (21oz) white chocolate
100g (3 1/2 oz) butter
2C dried cranberries
1.5C chopped roasted nuts – I like almonds and peanuts, but pistachios and cashews are also lovely options
2C quartered marshmallows
In a double boiler or microwave melt the white chocolate and butter together. Stir often and heat gently so it doesn't over cook.
Stir through the other ingredients. Press into a brownie pan/sponge roll tin lined with baking paper. Leave to set in the fridge for 2 hours. Sit at room temperature 10-20 minutes before cutting with a sharp knife.