This post was most recently updated on March 2nd, 2020
This easy recipe is a favourite in our household. My girls (8&6) LOVE caramel, so salted caramel biscuits are, of course, often requested.
Please read: This information is provided for educational purposes only and is not intended to treat, diagnose or prevent any disease. We encourage you to make your own health care decisions in partnership with a qualified health care professional.
This post contains affiliate links, this means at no extra cost to you, we make a commission from sales. Please read our Disclosure Statement
These salted caramel biscuits are crunchy on the outside and chewy in the middle and oh so yummy. The girls can make them by themselves (with supervision), and my boy (2) loves to help.
RELATED POST: white chocolate and caramel no-fail fudge
RELATED POST: White chocolate and caramel blondie
Where did this Salted Caramel Cookie recipe come from?
My grandma was a fabulous baker, I have adapted many of her recipes. She used to make what she called 'malt biscuits' but they had no malt in them, but they did have sultanas or raisins.
When I was a kid I really disliked the burnt raisins on the bottom, and now I am a grown up so I have changed the recipe to suit me better! So here you go, salted caramel cookies or in my world – salted caramel biscuits.
Dear Mr 2 decided he needed to be chief stirrer today!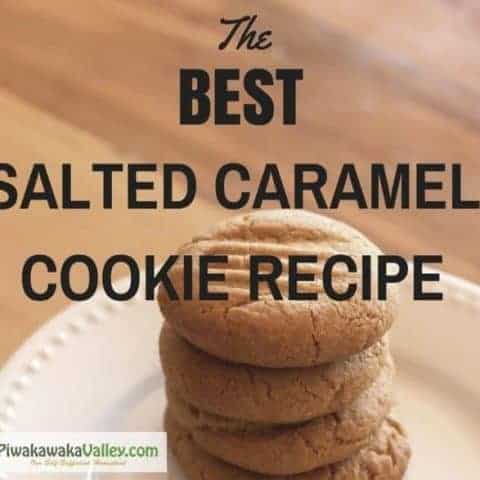 Salted Caramel Cookies
Quicky, simple and easy - these salted caramel cookies are done all in a pot and are simply amazing.
Ingredients
125 grams Butter, or 1 stick
2 Tablespoons Golden Syrup
1 Cup White Sugar
2 Cups White Flour
1 teaspoon Bicarbonate of Soda, (baking soda)
1 small teaspoon Table Salt
1 teaspoon Vanilla Essence
Instructions
Preheat the oven to 170C/340F.
In a large pot melt the butter, syrup and sugar and bring to a boil.
Take off of the heat and add all of the other ingredients.
Mix well.
Roll into golf ball sized balls and place on a lined tray. Flatten slightly with a fork.
Bake for 10-15 minutes or until a nice caramel golden colour, don't over bake.
Like most cookies - Best served warm with a glass of cold milk!
Notes
Due to the sugar content of these biscuits if you overcook them they can be quite hard - nothing dunking in a glass of milk or a cup of coffee wouldn't fix! But do err on the side of caution when setting your timer.
WARNING these are dangerously delicious and we may have almost totally eaten the whole batch within an hour of them being baked when I was getting photos for this post!Will store in a sealed tin for up to two weeks - but you will have to lock them up and hide the key.Will freeze in an airtight container for up to 6 months.