This post was most recently updated on January 12th, 2021
Who can resist the warm, sweet spicy smell of fresh hot cross buns? Hot cross buns are a traditional Easter time treat. This sourdough hot cross bun recipe has no refined sugar and no commercial yeast.
Please read: This information is provided for educational purposes only and is not intended to treat, diagnose or prevent any disease. We encourage you to make your own health care decisions in partnership with a qualified health care professional.
This post contains affiliate links, this means at no extra cost to you, we make a commission from sales. Please read our Disclosure Statement
My kids loved making these today, and they were our quick and easy lazy-mum dinner tonight.
To make these Easter buns you will need 1 cup of active sourdough starter. If you find yourself caught short, do not fear – you can add 2 teaspoons of commercial yeast to the warmed milk and add about another 1/2 cup of water.
Check out our sourdough ebook here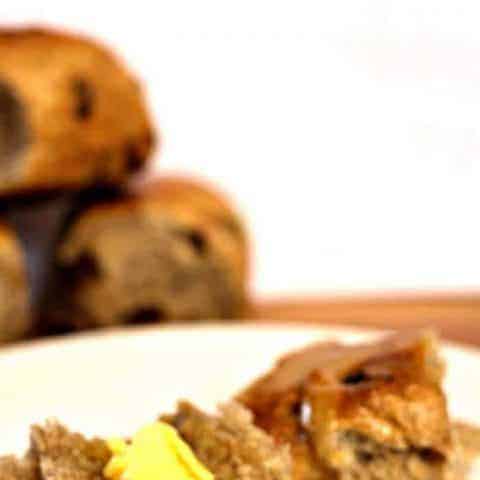 Traditional Sourdough Hot Cross Buns
Yield: 12

Prep Time: 20 minutes

Cook Time: 40 minutes

Passive Time: 4 hours

Total Time: 5 hours

These spiced Easter buns contain no refined sugar.
Ingredients
5 Cups White Flour
1 Cup Active Sourdough Starter
2 Cups Milk
1/3 Cup Honey
2 teaspoons Salt
2 teaspoons Ground Cinnamon
2 teaspoons Mixed Spice
1 Cup Sultanas or Raisins
1/4 Cup Mixed Peel, Optional
Instructions
8-12 hours before you want to make these buns feed up your sourdough starter with 1/2C flour and 1/3C water.
In a pot put the milk and honey and heat to blood temperature.
In a large bowl put all the rest of the ingredients.
Combine all ingredients in the bowl and knead. Add up to an extra 1/2C water if required to get a soft dough. Knead the dough for 5-10 minutes.
Divide the dough into 12 equal portions and shape into buns.
I like to flatten them out and then fold all the edges underneath, leaving a smooth top.
Place in a lined or very well greased pan, with 1/2 an inch gap between them. Cover with a damp tea towl and leave somewhere nice and warm to rise for 3-5 hours.
In a small bowl combine 3 tablespoons of flour and 2-3 tablespoons of water to make a thick paste. Use a icing bag to make the crosses in the top.
Bake in a hot (380F / 200C) oven for 35 minutes. Remove from the oven and brush with a little honey. Return to the oven for 5 minutes.
Serve fresh and warm with lashings of butter.
Please Pin and share with your friends and family.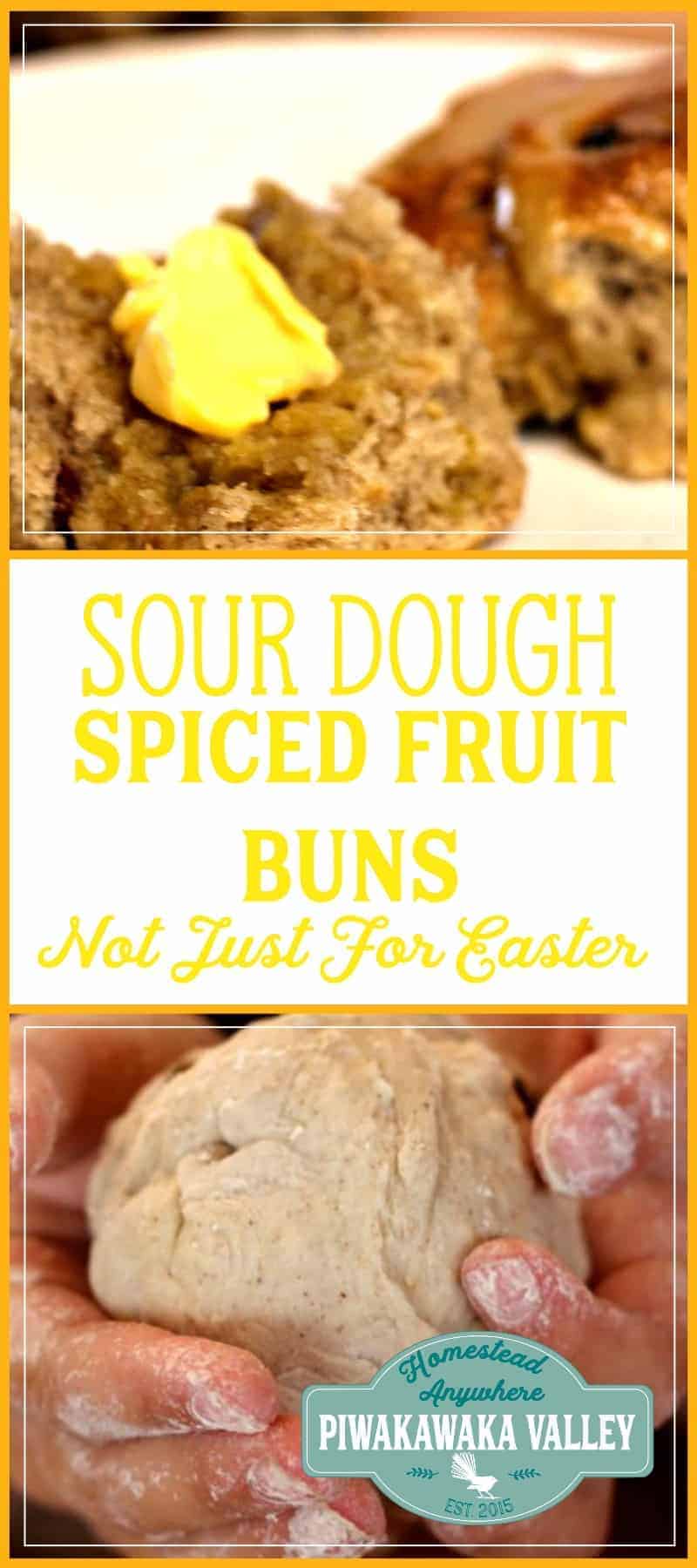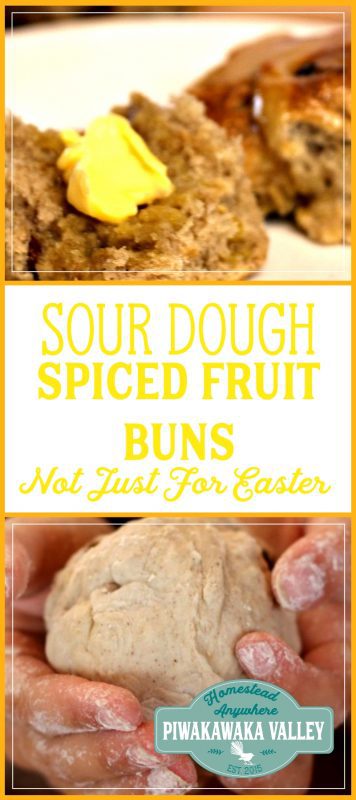 [wpurp-searchable-recipe]Traditional Sourdough Hot Cross Buns – These spiced Easter buns contain no refined sugar. – White Flour, Active Sourdough Starter, Milk, Honey, Salt, Ground Cinnamon, Mixed Spice, Sultanas or Raisins, Mixed Peel (Optional), , 8-12 hours before you want to make these buns feed up your sourdough starter with 1/2C flour and 1/3C water.; In a pot put the milk and honey and heat to blood temperature.; In a large bowl put all the rest of the ingredients.; Combine all ingredients in the bowl and knead. Add up to an extra 1/2C water if required to get a soft dough. Knead the dough for 5-10 minutes.; Divide the dough into 12 equal portions and shape into buns.; I like to flatten them out and then fold all the edges underneath, leaving a smooth top.
; Place in a lined or very well greased pan, with 1/2 an inch gap between them. Cover with a damp tea towl and leave somewhere nice and warm to rise for 3-5 hours. ; In a small bowl combine 3 tablespoons of flour and 2-3 tablespoons of water to make a thick paste. Use a icing bag to make the crosses in the top.; Bake in a hot (380F / 200C) oven for 35 minutes. Remove from the oven and brush with a little honey. Return to the oven for 5 minutes.; Serve fresh and warm with lashings of butter.; ; – – Baking – Cook – Sourdough – Make your own – Recipe – Return to the old ways – Sourdough[/wpurp-searchable-recipe]