This post was most recently updated on January 12th, 2021
Chocolate baked cheesecake is one of my hands down favourite desserts. This recipe is my own variation based on the original Juniors vanilla cheesecake recipe. I love this chocolate baked cheesecake on a chocolate sponge base, but I have included the variations that I make to this recipe to make it keto friendly.
Please read: This information is provided for educational purposes only and is not intended to treat, diagnose or prevent any disease. We encourage you to make your own health care decisions in partnership with a qualified health care professional.
This post contains affiliate links, this means at no extra cost to you, we make a commission from sales. Please read our Disclosure Statement
In the keto recipe there are two options for bases, a sponge base or a thicker more firm base, I tend to alternate which I make as I like them both!
I also have a lemon cheesecake recipe that you might like too.
Chocolate Baked Cheesecake with Sponge Base
This is not a cheap dessert to make, but for special occasions I love to splash out and treat ourselves!
All up it costs me about $20 to make this baked cheesecake, but to buy one from the store already made would cost you closer to $90.
It is still worth it.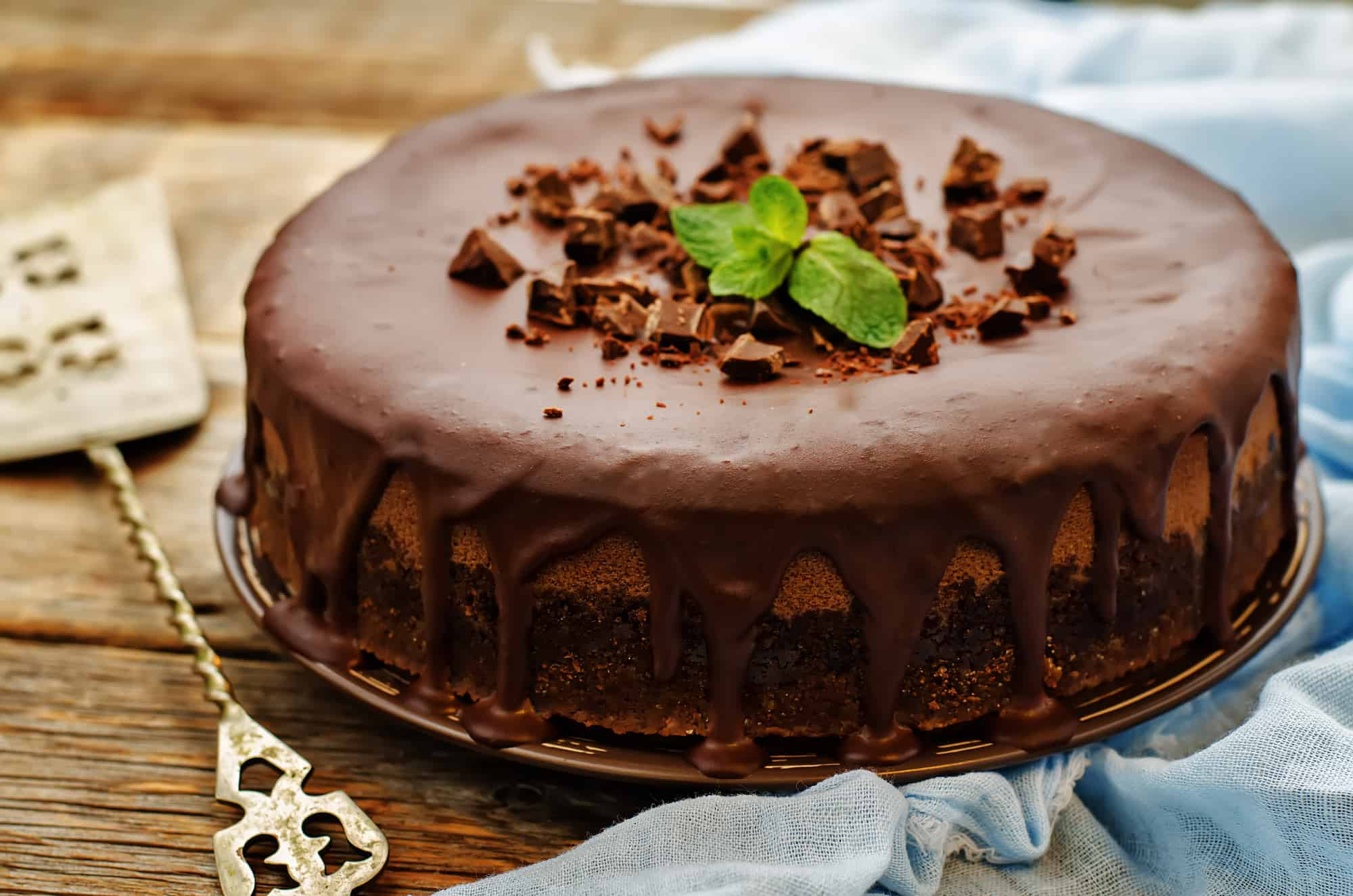 This chocolate baked cheesecake recipe uses 4 x 250g/8oz packets of cream cheese. I only use the boxes of Philadelphia Cream Cheese as I find it has the least amount of fillers and rubbish in it. You want a pure, full-fat cream cheese for this recipe that you have left out at room temperature to soften for an hour or two.
To make this cheesecake rich and chocolatey I use a block of dark chocolate and some cocoa powder. I melt the chocolate and then stir through the cream to make a ganache which avoids having hard little chocolate lumps.
I have omitted the cocoa and added white chocolate and some frozen raspberries before too, that was amazing.
I make this cheesecake in a 9 inch spring form pan, it makes a BIG cheesecake that is perfect for serving at a party or family dinner. Left overs can be frozen to eat another day, to defrost simply move to the fridge for about 8-12 hours.
Gluten Free Chocolate Baked Cheesecake
This chocolate baked cheesecake recipe uses cornstarch (also called cornflour in NZ) instead of regular flour. In the cheesecake mixture this helps to firm up the cheesecake.
In the sponge it makes it extra light and fluffy.
If you need to serve someone that is strictly gluten free be sure to check that you are using maize cornstarch/cornflour not the wheaten one.
The keto version below is also gluten free.
Keto chocolate baked cheesecake that is actually nice
For the keto variation of the chocolate cheesecake you can simply swap out a few ingredients and an outstanding cheesecake that no one would know it was keto!
For sweeteners you can either use erythritol or (if you can get it) I do prefer allulose. Because of the high fat content of the cheesecake erythritol has almost no noticeable flavour or cooling feeling in this recipe. But for the super fussy, allulose will not be noticeable at all in this recipe.
Swap out the sugar in both the base and the cheesecake for either erythritol or allulose, the quantities stay the same.
Be sure to use lindt 90% dark or another keto friendly chocolate like Lily's.
Omit the cornstarch in the cheesecake (you won't miss it).
Add almond flour instead of cornflour in the sponge, the quantities stay the same.
Keto chocolate baked cheesecake base option
For an alternate base for the keto version you can try this almond cake, it is more dense than a sponge base, but it is nice too!
1/2 cup almond flour
2 Tablespoons cocoa
1 Tablespoon coconut flour
1 teaspoon baking powder
1/4 teaspoon salt
1/4 cup butter softened
1/3 cup low carb sugar substitute
1 egg
1 teaspoon vanilla
1/3 cup unsweetened almond milk or coconut milk
Preheat oven to 180C/350F
Grease a 9 inch springform pan, set aside.
Sift together flours, cocoa, baking powder and salt.
In bowl of stand mixer cream butter and sugar together until light and fluffy. Add eggs and vanilla and continue mixing until smooth.
Add flour mixture and milk in alternating amounts, starting and ending with flour. Stir until just blended.
Pour in springform pan. Bake for 15 minutes until center is set and toothpick comes out clean.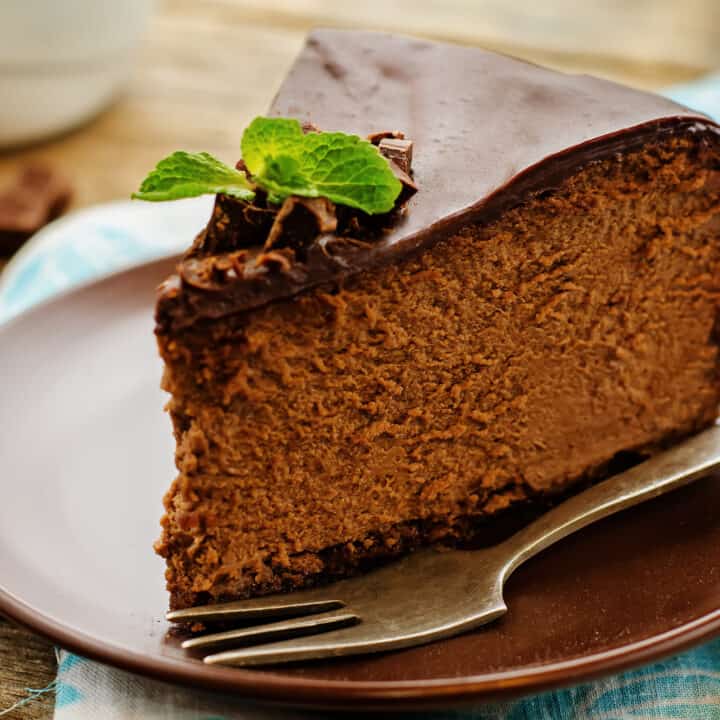 Chocolate New York Style Baked Cheesecake with Sponge Base
Yield: 10

Prep Time: 30 minutes

Cook Time: 1 hour 10 minutes

Passive Time: 4 hours

Total Time: 5 hours 40 minutes

The best, most delicious baked chocolate cheesecake you ever did see. Or eat.
Ingredients
5 Eggs, 3 eggs separated for the sponge
2 Cups White Sugar, 1/2C for the sponge, 1 1/2C for the Cheesecake
1 teaspoon Vanilla Essence
1 teaspoon Baking Powder
4 Tablespoons Cocoa Powder, 2 for the sponge and 2 for the cheesecake
3/4 Cup Cornstarch (cornflour in NZ), 1/2C for the Sponge and 1/4C for the Cheesecake
4 250g/8oz packets Cream Cheese
200g Dark Chocolate
1 Cup Heavy whipping cream cream
FOR THE GANACHE TOPPING (optional)
100g/4oz chocolate
100ml Heavy whipping cream
Instructions
Preheat the oven to 180C/350F
Line the bottom of a 9 inch springform tin with baking paper.
In a bowl whip the 3 egg whites until stiff.
Add 1/2C sugar, vanilla and the 3 egg yolks and beat in.
Fold through 1/2C sifted cornstarch, 2 Tablespoons of cocoa and baking powder.
Pour into the tin and bake for10-12 minutes until cooked.
NOTE: Don't panic if you are super good at making sponge and it rises up most of the tin. I use a ladle or spoon and simply push it back down to about 1cm/ 1/2 in thick.
While the sponge is cooking make the cheesecake mix. In a pot over a low heat melt the chopped chocolate and then stir through the cream until uniformly combined and set aside to cool.
In a bowl beat one packet of the cream cheese with the last 1/4C of the cornstarch and 2 Tablespoons of cocoa until well combined.
While the beater is running, add the rest of the cream cheese and the sugar.
Beat for 2 minutes, scraping down the sides several times.
Add the final 2 eggs. Beat well for a further 2 minutes, scraping down the sides every minute or so.
Scrape down the sides again, and add the cream and chocolate mixture. Beat until just uniformly combined.
Wrap several layers of tinfoil around the bottom of the cake tin. I find I need three layers to keep the water out.
Pour the cheesecake mixture into your tin and smooth the top.
Add the wrapped up tin to a larger dish and add 2.5cm/1in of hot water
Put the whole thing into the oven at 180C/350F for 70 minutes or until only just set - it will still wobble in the middle.
Allow to cool on the bench for 20 minutes then chill still in the tin in the fridge for at least 3 1/2 hours.
If you want the ganache topping, heat the cream until hot in a pot over a medium heat. Remove from the heat and stir through the chopped chocolate. Pour this over the cheesecake and return it to the fridge for a further hour.
To serve, remove from the fridge 10-20 minutes before serving. Run a knife around the edge of the spring form tin, then release the spring and remove the ring.Cut with a hot knife.
Notes
Store any leftovers in the fridge and consume within 3 days. You can also wrap well in foil and store in the freezer for up to 6 months. To defrost place in the fridge for 6-12 hours.

FOR KETO VARIATION

Swap out the sugar in both the base and the cheesecake for either erythritol or allulose, the quantities stay the same.

Be sure to use lindt 90% dark or a keto friendly chocolate.

Omit the cornstarch in the cheesecake (you won't miss it)

Add almond flour instead of cornflour in the sponge, the quantities stay the same.