This post was most recently updated on January 12th, 2021
Cookie butter is not something that I had heard of until recently. It is not something that we can buy in New Zealand, so I decided to make my own cookie butter recipe, and it turned out AH-MAY-ZING.
Please read: This information is provided for educational purposes only and is not intended to treat, diagnose or prevent any disease. We encourage you to make your own health care decisions in partnership with a qualified health care professional.
This post contains affiliate links, this means at no extra cost to you, we make a commission from sales. Please read our Disclosure Statement
This super simple cookie butter recipe will have you coming back for more!
Big thanks to my friend Ann at A farmgirl in the making for the inspiration, it was a tempting post from her on Facebook that made me find out about cookie butter in the first place.
This cookie butter is a huge hit with the whole family, and I altered it to match what we had available to us to use.
In New Zealand we have a biscuit/cookie that we call Gingernuts, these are also available in the UK and Australia. They are very similar to the American Gingersnap, but a little bit harder.
For this recipe you can use any ginger flavoured cookie – even homemade ones. You could also use leftover gingerbread cookies from making your gingerbread houses, but leave out the extra mixed spice in the recipe below.
RELATED POST: Best gingerbread recipe
How to make homemade cookie butter
To make this recipe is really easy. I simply used my food processor to turn the gingernut cookies in to very fine crumbs.
Then I added 4 tablespoons of brown sugar, 1/2 a teaspoon of salt, and 1/2 a teaspoon of mixed spice (known as pumpkin spice in America) and pulsed the food processor to mix well.
Then, as the food processor is running I added the water and the oil.
Storing homemade cookie butter
This recipe is best stored in the fridge and will last for 2 weeks in a sealed jar, but I doubt it will last that long!
Variations for this homemade cookie butter recipe
You can also alter this recipe to make cookie butter with other cookies, just remove any creme fillings, you could even try a combination of different flavours!
Cookies that crumble well are the best to use, avoid ones full of oats or raisins.
You can replace the oil with butter if you prefer, but the mixture will set hard in the fridge, so you will need to sit it out to soften before use.
Some other cookie butter copycat recipes use condensed milk, but I find that that isn't nessacary to get a creamy mixture. You can however, if you like replace the water with milk or heavy whipping cream (cream) if you like.
I used light olive oil as the oil of choice, you can use any liquid oil that you like. You can use coconut oil, but it will set just as firm (if not more so) as butter, so you will need to warm the cookie butter before use.
Using cookie butter
We like to use our cookie butter as a topping on ice cream or waffles. It is also delicious on bread in place of nutella! My actual favourite way to use cookie butter is to eat it straight off the spoon!
History of cookie butter
The cookies that the original cookie butter was made from are known in Europe as Lotus Speculoos, the cookie was invented in Belgium in 1932.
Since then, every single Biscoff cookie has been baked there, according to the exact same recipe. The winner of a television cooking contest in Belgium first developed cookie butter around 2010 using Biscoff cookies.
Lotus makes its own version of cookie butter, but a number of companies have also hopped on the cookie butter train. The spread is a huge seller for Trader Joe's (which also offers crunchy and cocoa swirl versions).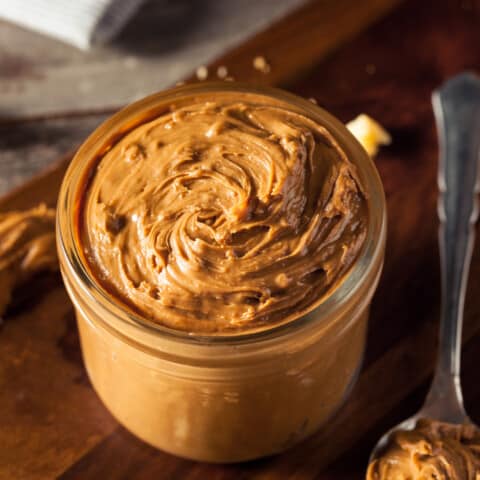 Easy Homemade Cookie Butter Recipe
Yield: 1 jar

Prep Time: 5 minutes

Total Time: 5 minutes

This homemade cookie butter recipe will knock your socks off!
Ingredients
250g (8oz) Gingernut (or Gingersnap cookies)
4 Tablespoons brown sugar
1/2 teaspoon salt
1/2 teaspoon mixed spice (or pumpkin pie spice)
1/2 cup liquid oil of your choice
1/4 - 1/2 c water
Instructions
In a food processor, blitz the cookies until fine crumbs
Add the spice, sugar and salt and pulse to combine
Add the oil and turn on the food processor, add the water in a slow stream until a creamy consistency is reached.
Continue to whip for a further 30-60 seconds
Pour in to a lidded jar and store in the fridge for up to 2 weeks.
Notes
You can replace the ginger cookies with any dry crumbly cookie that you might use to make a crumb base. Vanilla wine, malt biscuits, snickerdoodle, gingerbread and oreos (with the center removed) would all work.