This post was most recently updated on March 10th, 2021
Carrots are a staple in many households. Carrots are easy to grow once you know how. This beginners guide to growing carrots will show you how to grow successful carrots in your vegetable garden.
Please read: This information is provided for educational purposes only and is not intended to treat, diagnose or prevent any disease. We encourage you to make your own health care decisions in partnership with a qualified health care professional.
This post contains affiliate links, this means at no extra cost to you, we make a commission from sales. Please read our Disclosure Statement
Did you know that the original carrot was purple in color, much like a turnip? In fact, the earliest cultivation was for the leaves and the seeds rather than the root due to the unpleasant coloration.
Carrots have since been bred to appear orange in color and this root vegetable, rich in Vitamin A, is now a mainstay on just about every household table.
Growing carrots for beginners – a step by step guide
Because it is a root vegetable, carrots are relatively easy to grow and cultivate. However, it is recommended to follow this step-by-step guide if you are new to growing vegetables and carrots.
Step 1 – Choosing A Type Of Carrot To Grow
There are many different varieties of carrots – orange, yellow, white, purple, red as well as ball and wild.
Orange heirloom is the most common type for beginners to grow, there are a range of varieties within this. Orange carrots are also the easiest to grow as it deals better in rough soil than other more delicate species.
Thumberline is a round carrot and suitable for clay soil. Nantes and "Little Finger" carrots are also popular but require softer, sandier soil.
Step 2 – Choosing A Location for Growing Carrots
Carrots are ideal for growing in most types of climates and are pretty hardy and resistant to weather conditions but do however prefer to be planted in a location that has maximum exposure to the sun.
Sandy soils with a neutral pH are also preferable.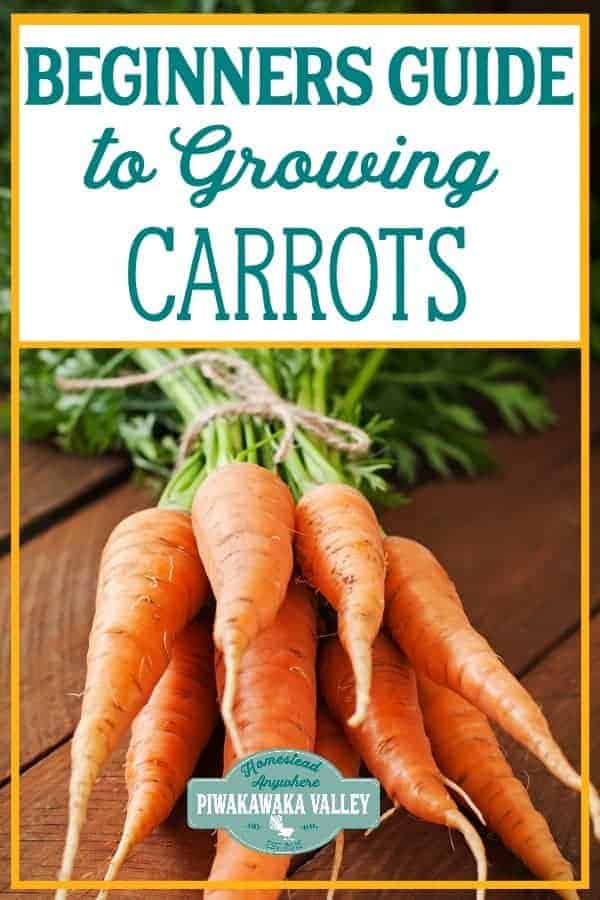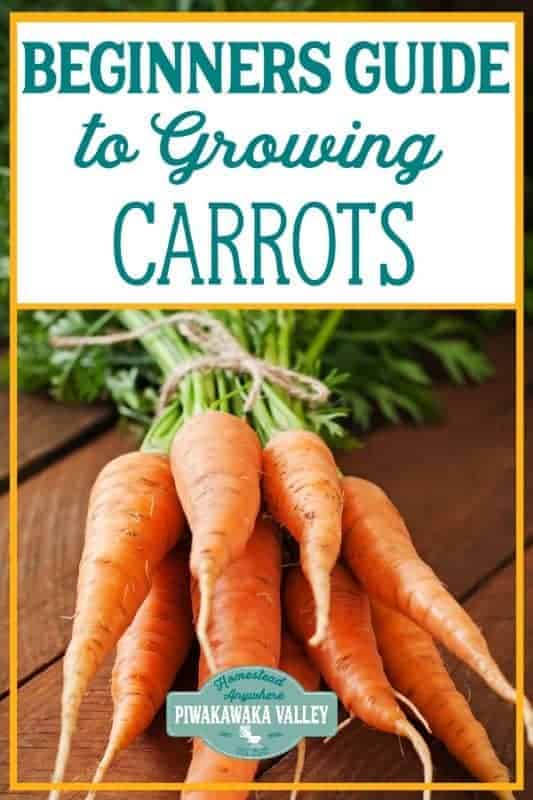 Step 3 – When To Plant Carrots
Carrot seeds should be sown between 3 to 5 weeks before the last frost date. The ground should be soft enough and moist but not wet.
If in doubt of germination, leave it a bit longer, they can take up to 3 weeks to germinate.
The best way to germinate carrots is to do the following steps:
Remove all weeds, rocks and lumps
Rake the soil even
Apply 2 inches of well rotted, sieved compost
Water the soil well
Mark rows that are 10cm/4inches apart and about 1cm / half an inch deep
Mix carrot seed with sand to dilute
Sprinkle along the row
Lightly cover with compost
Cover the row with a board
Check under the board every few days after a week until you see them starting to sprout, then remove the board
Generally, carrots are not grown from seedling and rather the seeds are sown directly into the soil as carrots don't transplant at all well.
Places that get too hot in summer might find that their carrots bolt to flower more quickly, so they are best grown in the early spring and early autumn/fall. This way you will also get two harvests from a carrot patch.
If you are new to gardening, or want some support and knowledge getting a garden started, check out our Productive Gardener Course TODAY
Step 4 – Preparing The Soil
Soil preparation is very important when cultivating carrots. Remove all rocks and stones from the soil to the depth to which the carrots are expected to grow.
Stones can stunt the growth of the more delicate species or cause a carrot to grow to avoid the stones resulting in twisting or winding produce.
The soil should preferably be tilled to provide a light sandy texture. However, manure and fertilizer are not recommended as they make forked roots.
Step 5 – Planting The Carrot Seeds
The seeds should be planted in rows that are at least one foot apart if you want to walk between them, or 10cm/4in apart in raised beds, and spaced about 2 inches apart.
Ideally, they should be sown shallowly and not planted deep in the ground. The soil should be gently patted down and mulched after sowing.
To help space out the tiny seeds, mix the carrot seeds with a cup of sand and then sow the seed/sand mix.
You can sow additional seeds around 3 weeks after planting in a continuous cycle in order to have multiple crops and an ongoing supply of fresh carrots.
Adding radishes to the carrot seeds will also help you space out the seeds, and the radishes will germinate quickly allowing you to see the rows.
Radished will be all harvested before the carrots really need the space.
Step 6 – Caring For The Plants
Carrots like water and it is recommended to water regularly – about 1 inch every week or so.
It may be necessary to thin carrots when they have reached a height of about 1 inch tall to keep them at an ideal distance of 3 inches apart.
A balanced fertilizer can be applied about 5 weeks after sowing.
Carrots can take a while to germinate (up to 3 weeks!) I have had best success by sowing the seeds in an inch of bagged compost. It acts as a mulch to keep the soil moist, it feeds the plants and keeps the weed pressure down.
Step 7 – Harvesting The Carrots
Carrots should be ready to be harvested between 2 to 4 months after planting.
Generally this will occur a month or two after the last frost.
Frost is good at the end of the season for carrot growth and encourages energy storage making them sweeter and crisper.
You may have to pull a carrot every week or so after a 2 month growth period to check for readiness. Harvesting too late can result in larger carrots that are fibrous and do not have a sweet taste.
Step 8 – Storage And Preparation
Carrots can be stored at room temperature for a few weeks without turning but can last a couple of months in the refrigerator.
Alternatively, they can be blanched and then frozen to last much longer.
You can also pickle or preserve carrots in order to benefit from your crop for much longer.
Step 9 – Pests And Diseases
Carrots are prone to Yellow Disease which results in hairy roots and stunted, yellow carrot tops.
Pests like the Wireworm and Flea Beetle can also be very destructive to your crop.
It is recommended to visit your local nursery to prevent these pests from destroying your crop and spreading Yellow Disease.
Carrot fly can be deterred by planting carrots near onions or leeks.
If you would like help getting the most out of your garden, I would love to help you, find out more here
RELATED: Free Gardening Resources
If you like tips on frugal living, self sufficiency and consuming less, sign up to our newsletter below, I would LOVE to have you
For further reading, I also recommend all of these books. I own every one of them and they are amazing resources!