This post was most recently updated on January 12th, 2021
If you have a garden at home, chances are you can grow your own beets. If you are like many people, you might not like the taste of beet roots right from the garden, however you should try pickled beets. Canning beets is easy if you follow these step by step instructions on preserving beets in jars.
Please read: This information is provided for educational purposes only and is not intended to treat, diagnose or prevent any disease. We encourage you to make your own health care decisions in partnership with a qualified health care professional.
This post contains affiliate links, this means at no extra cost to you, we make a commission from sales. Please read our Disclosure Statement
Canned beets are preserved in a pickle mixture containing vinegar, sugar and your choice of spices. Garlic, chilli, black peppercorns and ginger are all common choices.
Canned beets are very easy to do, a perfect project for beginner canners. Use the instructions below to learn how to preserve beets at home in jars quickly and easily.
Choosing beets to make pickled beetroot
Choose beets about the size of a golf ball. They are more likely to be tender and crisp. Be sure to cut off any bruises or rotten/overripe patches.
Avoid using beetroot where the center is woody or the plant has started to go to seed, they won't be pleasant to eat.
All types of beets can be canned, but the dark red varieties look particularly stunning in glass jars or bottles.
What you need to can beets safely at home
You will need beets (obviously)
Some canning bottles or jars – these are the ones made specifically for preserving food at home in. They usually have a two part lid consisting of a seal (the flat metal bit) and a band (the ring)
A large pot or a water bath pot
A rack to keep the jars off the bottom of the pot so they don't explode
A jar lifter so you don't burn your fingers!
A canning funnel is not totally required, but it does make things MUCH easier!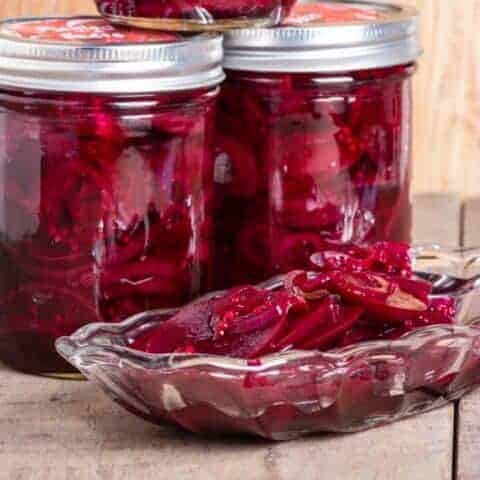 Canned Beets: How to make pickled beetroot at home
Total Time:
1 hour
10 minutes
Super easy water bath canning method for preserving beets in bottles or glass jars. Step by step instructions for beginners.
Ingredients
3 lb beets, 1.5kg
1 cup water
1 cup sugar
2 cups white vinegar
1 teaspoon salt
your choice of spices
4 new lids for preserving jars
4 x 1 pint/500ml preserving jars
Instructions
Wash your beets and remove the roots and greens.
Place the beets in a big pot and cover the beets in water and bring it to the boil. Simmer for about 20 minutes or until just tender.
Tip the beets in to a bowl of cold water and allow them to cool enough to handle.
Slip off the skins and slice the beets in to 5mm/1/4inch slices.
Heat your oven to 200F/100C. Place your clean dry jars in to heat on a tray or in a dish for 10-12 minutes (no longer or they will crack). When you remove the jars from the oven bring the tray and everything. This makes it easier to move them and reduces the cold shock.
While your jars are heating in a pot add the water, vinegar, sugar, salt and spices. Bring to a boil.
Put 4 inches / 10cm water in to the bottom of your water bath, with the rack in the bottom. Heat to a simmer.
Carefully take your jars out of the oven and fill them with your sliced beets.
Fill the jars with the vinegar mixture, leaving a 1 cm / .5 inch gap at the top.
Run a knife down the inside edge of the jar all the way around to release the bubbles.
Top up with more vinegar mixture so that the jar is filled up to 1cm / .5 inch from the top.
Wipe the rim with a clean dry cloth. Place a clean lid and ring on the jar and screw to "finger tip tight" which is as firm as your can tighten it with using just your fingers.
Place the jars carefully in to your water bath, ensure the water is at least 1 inch above the lid of the last jar added to the pot.
Simmer the pot uncovered for 20 minutes, and then carefully lift out the jars and set aside on a folded towel to cool
Once the jars are totally cool you can label them and remove the ring to check if they have sealed properly. Any jars that haven't sealed will need to go in the fridge and be used within the week.
You can leave the rings off of the jars. Store at room temperature for up to 2 years. Discard any that develop bulging lids or look or smell wrong (none of these things should happen if you are careful with your sterilisation).
I love the Ball canning book recipes and instructions combined with my own canners recipe book.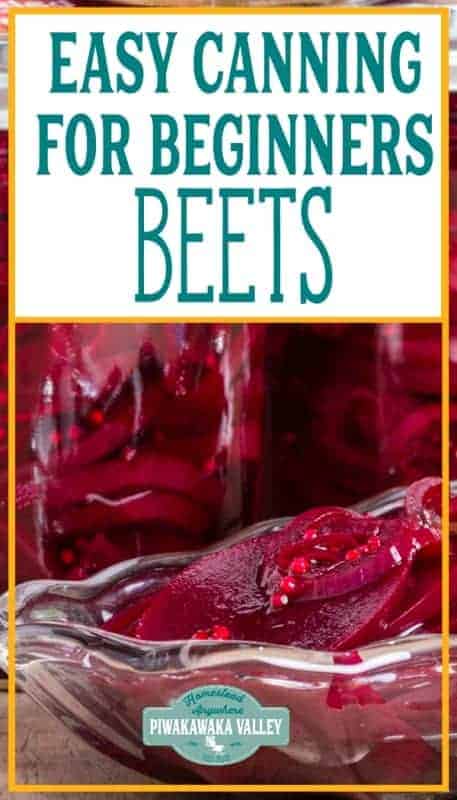 vinegar, sugar and your choice of spices. Garlic, chilli, black peppercorns and ginger are all common choices. Canned beets are very easy to do, a perfect project for beginner canners. Use the instructions below to learn how to preserve beets at home in jars quickly and easily. #canning #recipe #piwakawakavalley">