This post was most recently updated on March 18th, 2020
According to new studies, over 8.3 billion tons of plastic has been produced worldwide since 1950. This number is a staggering reality of what the planet is dealing with as time goes on and how important it's become to reduce waste.
Please read: This information is provided for educational purposes only and is not intended to treat, diagnose or prevent any disease. We encourage you to make your own health care decisions in partnership with a qualified health care professional.
This post contains affiliate links, this means at no extra cost to you, we make a commission from sales. Please read our Disclosure Statement
Here's a look at how to reduce waste following the "five Rs" of waste reduction in the home.
1. Refuse
It all starts with your mindset as an individual. The first "R" is Refuse and this refers to the idea of shunning plastic and general waste. Without the right mindset, you'll never be able to see progress in your endeavor to reduce your plastic consumption.
Items to refuse can include:
Plastic Utensils
Disposable Coffee Cups
Single-Use Plastics
Straws
Instead of using these items, why not ask for other reusable alternatives? This is the ultimate step in the right direction and is a must before moving to a more in-depth strategy.
Personally we use these items, I keep them in my bag in the car! Click on the images to find them on Amazon.
2. Reduce
Reducing is an essential strategy in your journey towards becoming eco-friendly.
The premise is to start reducing the amount of waste that's produced in your life.
It's not just about finding replacements but also making sure there's an action plan in place to help reduce any type of waste. Without a strategy, it becomes harder and harder to keep tabs on what's going on and that's when waste causes concerns.
One of the best strategies to employ would involve buying well-built items. For example, you shouldn't keep buying cheap items that break down after a few days and need to be tossed out. The goal should be to buy items that can be kept in your possession for years on end without losing quality.
Once you make this a habit, it becomes easier and easier to reduce waste in your life.
RELATED: 10 plastic-free swap-outs for in the Bathroom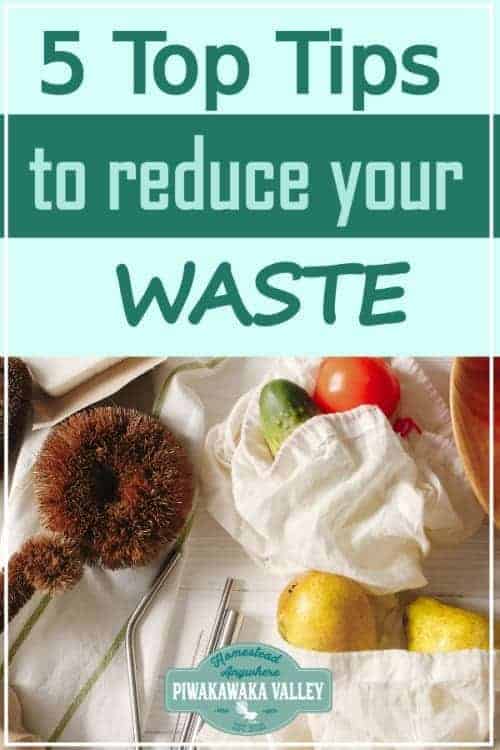 3. Reuse
This is one of the best strategies to use when it comes to reducing waste. You will want to reuse items as much as possible.
In fact, this is the reason single-use plastics are a major negative and shouldn't be welcomed into your lifestyle.
Those plastics do a tremendous amount of harm to the environment and can have a detrimental effect on everything.
Instead, you want to focus on finding items that can be reused without a problem. For example, why not pick out a good stainless steel water bottle that can be used for years? (These are the ones I love)
Why not purchase electronics that are easy to maintain and can last for a long time without needing to be replaced?
It's these little details that go a long way in reducing waste and keeping you heading in the right direction.
Unfortunately, too many people ignore this part of the process and end up producing a lot of waste.
Along with buying new items that are long-lasting, it's also a good idea to look for secondhand items from time to time.
These can be found almost anywhere whether it's at a local garage sale or from the thrift shop. In general, you want to make use of items that are "used" in order to make sure they're not wasted or tossed aside leading to environmental damage.
In many cases, these items are lightly used and can be just as good as a brand-new alternative. Simple changes like this can ensure your environmental efforts are worthwhile.
RELATED: 5 Tips for buying secondhand
4. Recycle
Recycling is a good habit to get into and can be life-changing in many aspects.
The emphasis is to make sure recyclable materials are being put in the appropriate governmental bins. These bins are collected on a weekly or bi-weekly basis, which helps keep materials accessible for reuse.
It's all about participating in the recycling process and adding value to the planet's resources. Otherwise, too many items end up in the landfill or the sea without being managed appropriately. This only worsens the planet's health and is one of the worst things that can happen especially when it's a widespread issue.
Focus on recycling and make sure to appropriately use your bins. Recycling isn't as "green" as it once was, as it turns out many of our recyclables are not actually recycled, they are shipped to third word countries where they are often simply discarded. However, that is not an excuse to simply not try.
5. Rot
Composting is a unique concept to a lot of people but is well-regarded as an essential part of the five Rs. In general, rot means taking advantage of the planet's natural processes as a way to replenish resources.
Composting is easy to do at home and will stop all your vegetable and fruit scraps ending up in landfill.
Find out about starting a compost heap here.
Final Thoughts on using the 5 R's to reduce your impact on the earth
Reducing waste is all about creating a plan, following through, and remaining consistent.
The changes aren't going to come overnight but every small drop in the ocean makes a difference. Too many years have been spent on kicking this issue ahead and ignoring it now. Instead of ignoring what's become a troubling reality, it's time to focus on reducing waste with the five Rs.