This post was most recently updated on September 15th, 2020
Now that we have a tunnel house, we end up with a huge haul of tomatoes every year, which is great. We can most of them to use later but some of them I always dry to make tomato powder. You can use this recipe to make tomato powder with just the seeds/pulp and skins from tomatoes that you are canning too.
Please read: This information is provided for educational purposes only and is not intended to treat, diagnose or prevent any disease. We encourage you to make your own health care decisions in partnership with a qualified health care professional.
This post contains affiliate links, this means at no extra cost to you, we make a commission from sales. Please read our Disclosure Statement
Tomato powder packs a massive punch in soups and stews. Think of tomato paste on steroids.
Whether you are harvesting your own tomato glut, helping someone else out with theirs, or you find a reaaallly good deal on buckets of tomatoes at the store, then this is the tutorial for you!
RELATED: 20 ways to use up tomatoes.
RELATED: Best ever tomato ketchup recipe
The best thing about making tomato powder at home, is that you can actually just use the scraps that you get after making ketchup or from canning tomatoes, you don't have to use the whole tomatoes for it. You can make tomato powder from the skins and seeds!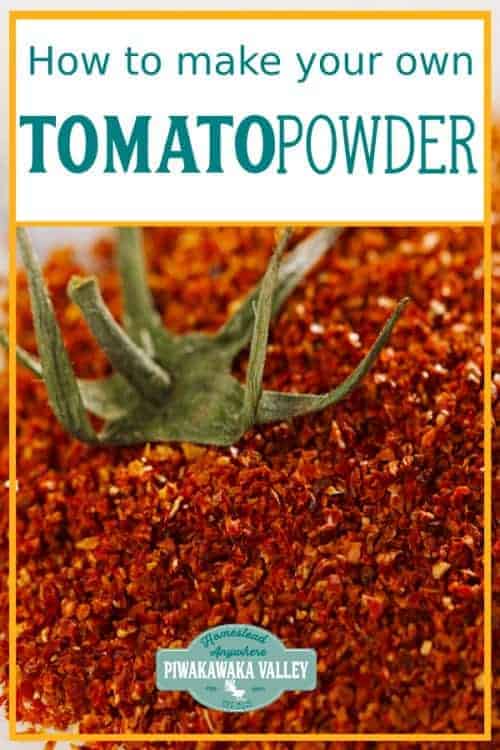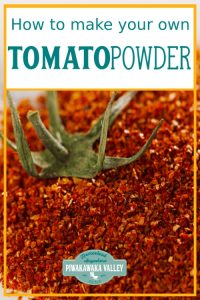 Reasons to Use Tomato Powder
You may wonder what is so good about tomato powder, why not just use fresh tomatoes?
1. Tomato powder lasts longer
Tomato powder is shelf stable for several years, whereas fresh tomatoes are good for a week, tops.
2. Tomato powder is efficient
You don't need to open a whole can of tomato paste if you have tomato powder on the shelf – just a tablespoon of tomato powder is equivalent to 2-3 tablespoons of tomato paste.
3. Perfect to make seasoning with
If you are making marinades, your own spice mixes or wanting to make your own tomato flavoured dip, then tomato powder is exactly what you need.
4. Uses up scraps
If you have been canning or making sauce, usually you will peel the tomatoes and de-seed them. These scraps are actually perfect to make tomato powder with.
RELATED: 10 vegetables to dehydrate that actually taste nice
RELATED: Making fruit leather at home
How to make Tomato Powder at Home
1. Select your tomatoes
You can use tomatoes that are starting to soften but remove any tomatoes that are rotten or moldy. The best tomato powder is made with tomatoes that are at their peak ripeness.
If you don't have time right now, you can chop them and freeze them until later.
2. Peel and chop
Peel your tomatoes and slice them 1/4inch/5mm thick. This is long and tedious, but you only have to do it once. Put your favorite show on the telly and sit down to do it.
The thinner you slice them, the faster they will dry. It is most important that the slices are even however, as the thicker ones will dry more slowly.
3. Dehydrate
You can dry your tomatoes in a dehydrator following its directions. I usually do it at 50C for 8-10 hours. You want the tomatoes to be hard and crispy, not rubbery.
You can dehydrate your tomatoes in the oven, set it to its lowest setting usually 150-200F/70-100C and place the tomato slices in a single layer on parchment lined trays.
Cook for 8-10 hours or until done. If you have a fan option on your oven, use that too, it will dry it out faster.
4. Pulverize
The most efficient way of doing this is in a Nutribullet, but a standard food processor, coffee or spice grinder, or even a mortar and pestle will work too.
5. Sieve
Pass your newly made tomato powder through a sieve before storing it. The larger pieces you can either re-crush or add to soups or stews.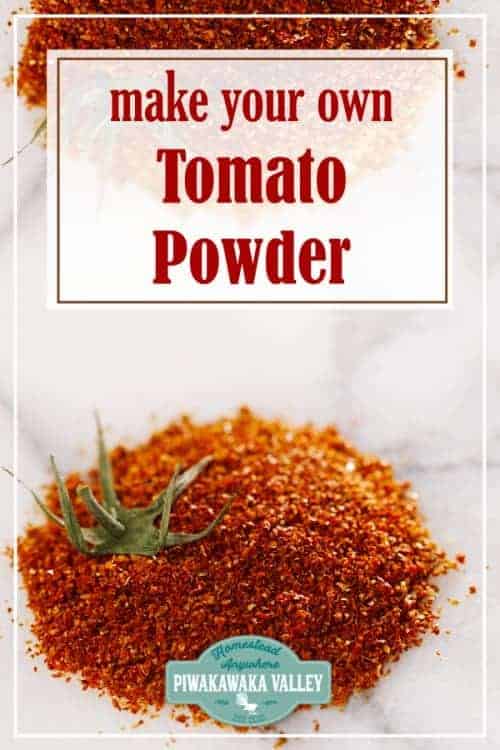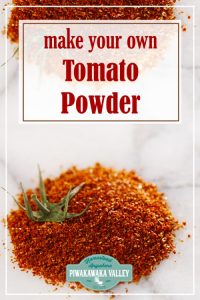 Storing Homemade Tomato Powder
Store your homemade tomato powder in a sealed jar. If you have spare silicone sachets that soak up moisture, pop one in there too. Adding a tablespoon of uncooked rice in a small mesh bag has the same effect.
Tomato powder made this way should store for several years before the potency will start to decline.
Troubleshooting Making Tomato Powder at Home
Help my tomatoes made a thick paste not a powder!
Make sure your tomatoes are totally dry before crushing/blitzing. All is not lost. Spread your paste out on some parchment in the oven or dehydrator and dry it some more. Another 2-4 hours should be enough.
Then return the powder the the nutribullet and try again.
Also, make sure the dried tomatoes are totally cool before you try and blend it. The heat of the warm tomatoes can cause condensation to happen in the food processor making the powder clump.
My tomatoes are still rubbery!
Keep drying them, you need them to snap or crumble when you bend it. tomatoes can take up to 14 hours to be properly dry.
Help, my tomatoes look cooked!
Ideally you will be using a dehydrator that cannot get hot enough to cook the tomatoes.
If you are using the oven, and it cannot reduce it's temperature any further, you might need to look for a different way of dehydrating your tomatoes.
RELATED: Different ways to dehydrate vegetables
You can still use your tomatoes that looks cooked as long as it is crispy and dry. If it is burnt you will want to throw it to the chickens as it will taste very bitter.
Tips for Making Tomato Powder at Home
Buy tomatoes in season, this is usually mid to late summer or early autumn/fall. When there is a lot around it is cheaper to buy them.
Look for big bulk deals – you can often get a banana box full or a bucket full for very cheap.
How to Use Tomato Powder
Preserving food is only useful if you actually use it!
Reconstitute Tomato Paste:
Mix 2 parts powder to 1 part water to make as much or as little tomato paste as you need.
Reconstitute Tomato Sauce/Puree:
Combine 1 part tomato powder to 6 parts water to make a tomato puree.
Reconstitute Tomato Juice:
Stir 2 tablespoons of your tomato powder into a large glass of cold water for a refreshing tomato juice.
Instant tomato soup:
Stir 2 tablespoons of tomato powder into a mug of boiling water. Add a pinch of onion powder and/or garlic powder, and some dried thyme or basil, and season with salt and pepper to taste.
Reconstitute Pizza Sauce:
Combine 1/2 cup tomato powder and 1 1/2 cups water in a pot.
Bring to a boil, then reduce the heat and stir in 1/2 teaspoon each of garlic powder, oregano, and basil, plus a pinch of salt.
Add 1 teaspoon of sugar to counter the acidity, and simmer until the sauce is thick.
You can also:
Add to homemade barbeque sauce
Include in dry rubs for meat
Add some into the seasoning blend for meatloaf or meatballs
Add with herbs to cream cheese for a spread
Add it to homemade mayonnaise
I love the Ball canning book recipes and instructions combined with my own canners recipe book.